Let us honour these invisible deaths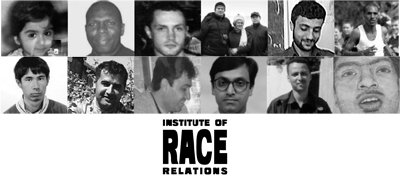 An extract from 'Driven to Desperate Measures: 2006-2010' by Harmit Athwal, the INSITITUE OF RACE RELATIONS (IRR)'s latest report documenting deaths of asylum seekers and undocumented migrants in the UK.

'No section of our society is more vulnerable than asylum seekers and undocumented migrants.
Forced by circumstances beyond their control to seek a life outside their home countries, prevented by our laws from entering legally and from working, denied a fair hearing by the asylum system, excluded from health and safety protection at work, kept from social care and welfare, unhoused and destitute, vilified by the media and therefore dehumanised in the popular imagination, their hopes of another life are finally extinguished.
The IRR has catalogued a roll call of death of the 77 asylum seekers and migrants who have died either in the UK or attempting to reach the UK in the past five years as a consequence of direct racism or indirect racism stemming from policies.
These deaths do not include 'settled' black people, those with leave to remain who have met their death in the custody of the police, prison and psychiatric hospitals and in racial violence attacks. '
•
15 died taking dangerous and highly risky methods to enter the country
. With legal barriers in place to prevent them securing visas or work permits to enter legally and sanctions applying to aboveboard carriers, the desperate stow away on planes and lorries or attempt to cross the channel in makeshift boats or cling to trains. The number recorded here is probably only a fraction of those who have died in this way. Our figures rely on news reports and, by virtue of the subject matter, these deaths are not news.

• 44 died as an indirect consequence of the iniquities of the immigration/asylum system – by taking their own lives when claims were not allowed, by meeting accidental deaths evading deportation or during the deportation itself, by being prevented medical care, by becoming destitute in the UK.
Of these:
– 28 died at their own hand, preferring this to being returned to the country they fled, when asylum claims were turned down. And compounding the process is the fact that some of those in detention and known to be traumatised and particularly vulnerable appear not to have been provided with the medical (especially psychiatric) support they needed.
– 1 died accidentally as, in terror after a raid by police and immigration officials, he took evasive action.
– 1 person died during the deportation process itself as he was being deported to Luanda, Angola escorted by three guards from G4S, a private security company.
– 4 people died after being deported back to a country where they feared for their safety. The actual number is certainly far higher.
– 7 people died because of being denied healthcare for preventable medical problems.
– 2 people died destitute and unable to access services.
– 1 baby died as a result of possible safety failings of a housing provider contracted by the UK Border Agency (UKBA).
•7 died in prison custody, either being held for deportation or while awaiting trial or serving sentences for charges involving false documentation.
•4 died in the course of carrying out work which, by virtue of its being part of the 'black economy', carried particular dangers and few protective rights. (The numbers listed here are probably a gross underestimate, as work-related death sof people who are 'illegal' will often go unreported in the media.)
•7 died on the streets of our cities at the hands of racists or as a consequence of altercations with a racial dimension. Often the victims had been moved, via the government's dispersal system, to areas where they were particularly isolated and vulnerable to attack.
Download the whole report: 'Driven to Desperate Measures 2006-2010' (pdf file, 432kb)
We give our thanks to the IRR for this report and allowing us to remember and honour these invisible deaths.

A roll call of the thousands of deaths of the migrants trying to reach Europe, to reach security, peace, happiness – or simply food – for theirselves and their children will never be possible.

Our hearts cry out for them.

Federica Gaida
For related articles, see our Refugee and Asylum page.