10th October 2011: The British passport you hold, or wish to get, is unique.
The four unusual facts about the new passport is that 4.5 million scenic Britain passports weigh the same as 50 Indian elephants; laid end to end they would reach from the London passport office to the Glasgow passport office; piled on top of each other they would be as high as 140 Big Bens or 35.5 Empire State buildings; and laid flat they would cover 68 Wembley Stadium sized football pitches.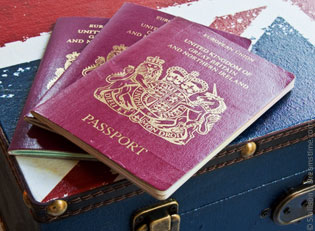 The revelation came during the first anniversary of new British passport. The first anniversary of the new 'Scenic Britain' passport was celebrated on Saturday 8  by the Identity and Passport Service (IPS), after 4.5million of the documents were issued in just 12 months.
The new-style document, featuring images of four well-known British landscapes, was launched last year with more than 50 security enhancements. The 'Scenic Britain' passport is printed by De La Rue in Britain at a rate of one every two-and-a-half seconds every working day.
Celebrating the milestone, IPS Chief Executive Sarah Rapson said: "successfully launching the new most secure passport ever and producing 4.5 million in the first year is a fantastic achievement, which both IPS and its suppliers can be very proud of. 
"But it is not just about producing passports. IPS is consistently in the top rankings of public sector organisations when it comes to delivering excellent customer service, whilst delivering more value for money for the fee payer and taxpayer."
Favourite views
The four scenes in the new passport are the White Cliffs of Dover, the Gower Peninsula, Ben Nevis and the Giant's Causeway.
The scenes were chosen by IPS staff as part of a competition. They were asked to describe their favourite scenic view, what it meant to them and why they felt it would make a good addition to the UK passport.
There are more than 50 passport security enhancements, which include:
moving the biometric chip which stores the holder's details to the inside of the passport cover where it is no longer visible.  This gives additional physical protection as well as making it much harder to replace the chip without damaging the passport cover; a secondary image of the holder printed onto the observations page; designs that stretch across two pages; and a new foil which includes several holographic techniques to protect personal details.
IPS has now taken over the responsibility for British passports previously handled by the Foreign & Commonwealth Office's (FCO) global passport processing centres. This means that all UK passports for issue to British citizens around the world are now printed and securely delivered from the UK.