10th October 2011: A dress from a charity shop, flowers from a supermarket and empty shoe boxes covered with wrapping paper as presents, gave away the plans of a "couple" to enter into fake marriage.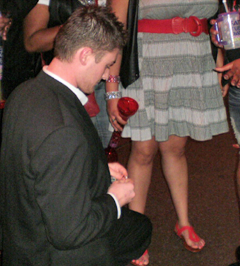 The revelation came after two members of a sham marriage gang, who attempted to stage a bogus wedding at Hatfield Register Office, were jailed.
The UK Border Agency said: Bride Luisa Ruano, 27, was jailed for eight months and wedding guest Masood Ahmed, 39, for 16 months at St Albans Crown Court.
The groom, 22-year-old Pakistani national Tallah Bin Wakeel, failed to appear and a warrant has been issued for his arrest. They had all pleaded guilty to charges of conspiring to facilitate a breach of immigration law at earlier hearings.
The UKBA said: `Their plot was scuppered when our officers from the immigration crime team stepped in at the St Albans Road East register office to stop the wedding between Wakeel and Ruano, a Spanish national, shortly before it was due to start on 25 May. Ahmed, who is also Spanish, had been acting as an interpreter for the couple.
`Wakeel, of the Drive, Isleworth, hoped his marriage to an EU national would aid his bid to gain long-term residency in the UK with the associated rights to work and claim benefits'.
Paul Hedges from the immigration crime team, UK Border Agency said: 'Ruano, Wakeel and Ahmed thought the façade they had created was entirely believable, but you did not have to dig very deep to realise everything about the marriage was wrong.
'The couple did not share a common language, the rings had been bought on the day of the ceremony and the dress from a charity shop just a day earlier. The flowers were from a supermarket and the presents were empty shoe boxes covered in wrapping paper. This was no one's idea of a dream wedding.'
Suspicions about the wedding were first raised on 19 April when Wakeel and Ruano attended the Register Office to give their notice of marriage. The registrar was concerned that the couple could not communicate with one another without an interpreter and contacted us.
Paul Hedges added:  'Let these sentences be a warning to those who seek to cheat immigration laws. We work closely with registrars and vicars to identify marriages that may not be genuine. We will not hesitate to take the strongest possible action against those involved in arranging sham marriages.'
Wakeel, who was in the county on a valid student visa, and Ruano pleaded guilty at a hearing on 1 August and Ahmed on 2 September.
The operation involved seconded police officers working together with warranted UK Border Agency officers to investigate organised immigration crime. The suspects were all charged on the advice of the Crown Prosecution Service.