'Those trying to play the system may face imprisonment for up to 7 years'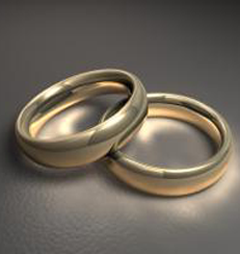 03 March 2010: You are in for trouble, if you are a 'third country national' lending a helping hand in sham marriage.
The authorities concerned have made it clear: "Where a sham marriage involves an European Economic Area national sponsor, the third country national will not gain the right to reside in the UK and will be liable to enforcement action.'
The assertion came after six people were arrested in a joint operation launched by Greater Manchester police and UK Border Agency's North West immigration crime team to tackle sham marriages.
Acting on intelligence, officers simultaneously targeted a number of residential addresses in Bolton, with the aim of disrupting an organised crime ring operating in the town, and arrested five people – three men and two women. Officers also visited an address in Liverpool, where another woman was arrested.
The six, all Czech nationals, were arrested on charges of assisting unlawful immigration and bigamy.
Jo Liddy, regional director in the North West, said: 'We have made it more difficult than ever for people to abuse the immigration system. We will challenge anyone who tries to take part in sham marriages. We will prosecute where appropriate, and will seek to remove foreign national offenders convicted of involvement in marriage scams after they have served their sentences.
'Those trying to play the system may face imprisonment for up to seven years…. Our North West immigration crime team was established in its early form in October 2008 and is based in Ashton-under-Lyne, Greater Manchester. The team consists of both immigration and police officers, who are seconded from forces across the region, working together.
Officers from the North West immigration crime team tackle crimes including people trafficking, drug and firearm offences linked to foreign nationals, bogus marriages and bogus colleges. They also seek to remove foreign offenders found guilty of serious offences once they have served their sentences'.

By Monika