08 October 2009.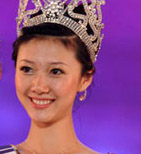 The lovely and sweet Yu Sheng has been crowned the 59th Miss World China in Shenzhen, south China's Guangdong Province on Oct. 6, 2009 by the winner of the 2008 Miss World winner Ksenia Sukhinova of Russia.
The First Runner-Up is Zhan Yang and the second runner-up is Yu Wei Wei.
20 year old Yu Sheng (also transliterated Shen Yujie) from Dalin stands 1.78m tall and works as a model. She had previously earned the title of Miss China Tourism Queen International 2009.
Newly crowned Miss China Yu Sheng will represent China at the "Miss World" competition in South Africa in December, bidding for the prestigious title along with other 119 contestants from around the world who will represent their countries.