The 20 year-old beauty from Surrey conquers crowd and judges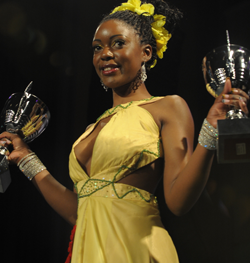 19 June 2009. Maria Namiiro was crowned the new Miss Uganda UK on Saturday 13 June at London's Troxy, out of 15 finalist contestants, 8 of whom went through to the final round for questioning.
Maria, a 20 year-old student from Surrey, was both the judges' choice and the crowd's favourite, in an event that gathered the greatest number of UK Ugandans ever.
She thrilled the audience when, asked what the single most revolutionary world event in the last 10 years was, she answered: "The introduction of an instant HIV testing kit through Saliva", to the cheers of the crowd.
She wins a modelling contract with Mahogany Model Management, cash prizes, a modelling portfolio by Martin Kuria Photography, an ambassador for Latitude Care Network, face of Brenda Maraka, Club Volts membership, an automatic entry to Miss Uganda for Miss World 2009 Grand Finale in Kampala on 26th Sept 2009 at Imperial Royale Hotel.
She will be leaving for Kampala in July for charity work on behalf of LCN.
Runners-up, Nancy Tamwesigire and Brandie Arombo, were also remarkable and both will receive directory into the Mahogany Model Management, cash prizes and portfolios.
The event was hosted by Nancy Kitaka and Yiannis Morgan and featured performances by a host of Ugandan artistes based in the UK (notably Chizzo, Caster P, Paddy Dee and the Boyz, N£lly, Mc Moseh, Fyonna, Elite ac, Angel J, Zack Milk and Plakamille, amongst others) as well as traditional performances and dance.
A percentage of the proceeds will be donated the organisers of Miss Uganda UK, Performance Production Ltd, to Latitude Care Network.
Keep up with futher news on the Miss Uganda 2009 pageant on www.missugandauk.com