15 Ugandan beauties will vye for the Miss Uganda UK 2009 title at the Troxy on June 13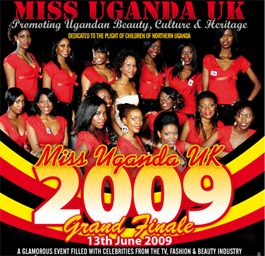 1 June 2009: Ugandan beauties are all set to sashay up the ramp of fame, with the return of the biggest pageant for them in the UK.
Ostensibly the "most glamorous" Ugandan event of the year, Miss Uganda UK 2009 Grand Finale is scheduled to be held at the Troxy, also home to Miss England, on June 13. The event will see 15 Ugandan beauties vying for the Miss Uganda UK 2009 title.
The organisers will use talent, music, production, design and state-of-the-art editing to deliver the edgy, contemporary look. Miss Uganda UK 2009 has got a wide targeted core audience. The entire event will later be broadcast on TV in Uganda and will also be available on DVD for purchase.
Contestants will be evaluated by a list of top judges from the modelling, photography and fashion industries. They will base their judgment on challenges put together by a team of experts. Tasks will also be set to determine the contestants' skills as team leaders or players, as well as their interactions with others.
If beauty lies in the eyes of the beholder, the contestants will find it tough to convince the watchful Judges. For they bring with them a wealth of experience in choosing who will represent UK Ugandans for Miss World 2009 competition in Kampala.
The judges include: Charles Thompson is the founder and CEO of Screen National Film & TV Awards, popularly known as the Black Oscars. He has produced over 15 narrative films, award winning included, along with feature films. He has also worked and produced programmes for TV and magazine in the UK and worldwide
Sola Oyebade, the head judge, is the director of Mahogany Models, Europe's largest modelling agency for models of colour; the same agency that will sign the winner with a year's modelling contract. He is also the director of Europe's largest Top Model of Colour competition.
Clayton Goodwin is a journalist and promoter of the Caribbean and Commonwealth beauty promotions in the UK. He has extensive experience in the beauty and fashion business for over 15 years.
Monica Grenfell is associate editor, News of the World Newspaper and Woman's Own Magazine. She has written over 486 weekly columns over the years with a readership of over 8 million people. She previously judged at Miss England.
Eva Mbabazi was one of Ugandans pioneer professional model, now running her own modelling agency, Eva Models.
Hilda Mulenga is the promoter of Miss Malaika UK and National Director of Mumba Childrens Project in Zambia
A businessman and entrepreneur, Alan Endfield is former judge at Miss England and Miss World.
EAST AFRICAN CUISINE
You will also get a chance to taste East African Cuisine at our grand finale. This will be provided for by Affab Star Restaurant. The cost is £5 per head.
There are still limited tickets available on the door. For further information, please do contact [email protected] – 07988 404 259.
VIP SEATED PACKAGE of £25.
Our VIP package includes:
• Free Miss Uganda UK 2009 Official Programme
• No waiting or queuing at the door on arrival. Customer service rep. will usher you to the front and escort you to your seat/ tables.
• Best seating in the house at either tables around the stage or tables on the balcony at the front. (All VIPs have table seating.)
• Priority service at the bar for drinks and food.
• Priority on Cloakroom facility
• Opportunity to take photo with a beauty queen winner
STANDARD TICKETS ARE £15.00 (All seating)
Get your tickets by phone or online, 24Hours, 7 Days, at Ticketmania – 020 8555 0044 / 0870 6000 8888 or at www.ticketmania.co.uk
Miss Uganda UK 2009 – Grand Finale –
Saturday 13 June 2009 @ Troxy –
490 Commercial Road, London, E1 OHX