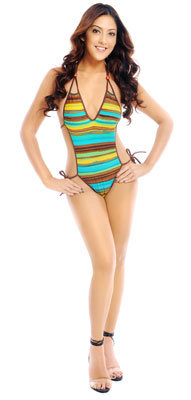 12 October 2009. 20 year old student Pilar Carmelita Arlando has been selected by ERM World Marketing to represent Singapore in South Africa for the Miss World 2009 Pageant.
The new Miss World Singapore replaces the former winner Ris Low, who decided to back out of the finals on 30 September, after a slew of negative media reports discredited her for her poor English and for her 2-year conviction for credit card fraud.
Pilar was second runner-up in the Miss Singapore World 2009 pageant held on July 31st at the Shangri La Hotel, where she also bagged Miss Personality and Miss Abry awards.
ERM decided not to select the first runner up as the new Miss Singapore World, due to her claims of injury because she cannot stand for long hours.
Pilar is of interesting mixed heritage. Her father, a police officer is of Chinese- Indian descent and her mother is a pre school supervisor is of Portuguese and Dutch descent. The family take Malay as their second language. She has 3 brothers and is the only girl in the family.
Pilar is presently a student at MDIS and studying for her Diploma in Travel, Tourism and Hospitality Management. She speaks English and Malay and hopes one day to be a manager in a tour company.
She will represent Singapore in the Miss World 2009 pageant, to be held on the 13th December in Johannesburg, South Africa.