Hometown Polish beauty is a charming singer as well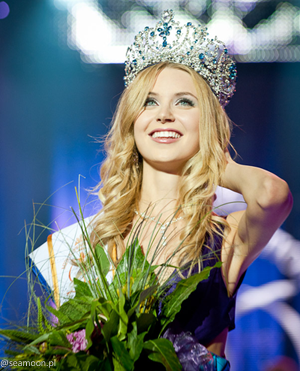 27 August 2011. Miss Poland is the winner of the 3rd edition of Miss Supranational pageant, whose 2011 finale was held 26 August in, one of the oldest cities in Poland.
Monika Lewczuk, from Płock, Poland, won the III edition of Miss Supranational. The finale was held in her own hometown, in the heart of Poland, one of the country's oldest cities.
The blonde hometown beauty is 23-year old, 1.77 m-tall, student who models and has a passion for singing. You can find a few of her renditions of R&B hits (Fallin', by Alicia Keys; Baby Boy by Beyonce) on Youtube – and as a matter of fact, the girl has got some skills.
One of the favorites to win the title, her victory was no surprise. She received the sash and crown from Panama's Karina Pinilla, last year's winner.
The 1st runner-up was Miss Belarus, Liudmila Yakimovich. Miss Puerto Rico, Valery Velez, was the 2nd runner-up. Miss Vietnam, Daniela Nguyenova, was the 3rd runner-up, the best ever result achieved by a Vietnamese beauty in a Grand Slam pageant. 4th runner-up, was Miss USA, Krystelle Khoury, one of the favorites.
Miss Supranational is the most recent pageant listed among the official "Grand Slam of Beauty Pageants" by GlobalBeauties.com.