Qori Sandiorova answers she believes hair is beauty, and she is proud of beauty.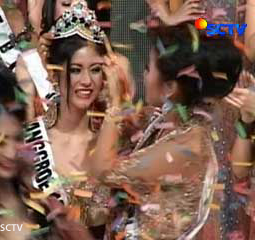 19 October 2009. Qori Sandioriva, 18, will represent not only Indonesian women's beauty in the prestigious Miss Universe 2010 pageant, but also their pride.
Qori won the title of Puteri Indonesia on October 9th, but also respect for holding her head high after Muslim clerics criticised her for not wearing a headscarf.
Ms Sandirova represented Aceh province in the pageant, vying for the crown with other 37 contestants. Bareheaded.
When asked by presenters Charles Bonar Sirait and Dian Khrisna during the contest why she chose not to wear a jilbab, Qory Sandrioriva replied that head hair was a part of a woman's beauty and there was no problem in showing it off.
After the contest, she explained that she did not normally wear jilbab, and that she had received special permission from the government of Aceh to represent the province, without wearing the scarf.
Since 2003 Acehnese contestants in Putri Indonesia have worn the Islamic headscarf, in line with sharia law in the autonomous province.
Qori Sandioriva was born in Jakarta but has an Acehnese mother. Thanks to her mother's connection to the province she was able to enter the competition as Miss Aceh. The clerics say that by failing to wear a veil during the competition she has
betrayed her Acehnese roots and brought shame to the province.
Teung-ku Faisal Ali, the secretary general of Aceh's Ulama Association, told the BBC that anyone who represents Aceh must uphold the province's values.
The controversy is likely to return next year when she goes on to compete in the Miss Universe 2010 contest where she will have to don a swimsuit as part of the pageant.
Qori Sandioriva beat finalists Zukhriatul Hafiza of West Sumatra Province, the second runner-up and Isti Ayu Pratiwi (North Maluku) as the Big Three Puteri Indonesia.