When its comes to Britons, gorgeous is not the word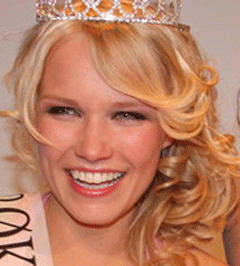 12 November 2009: If you are a Norwegian living in the UK, you can take pride in the fact that a website has rated Norwegian women the 'world's most beautiful', far better than Britons.

The website "for beautiful people only", in fact, says Britons are among the not so comely people in the world.
The conclusion comes from the fact that just one in eight British men, and just three in 20 women, who applied to 'BeautifulPeople.com', were accepted as members.
Norwegian women emerged most beautiful with more than three-quarters, or 76 per cent, making it. The results show Swedish men have established themselves as most successful applicants. Two-third of the applicants found themselves being accepted.
Overall, Sweden, Brazil and Norway are fast proving themselves to be the most beautiful countries. It may come as a surprise to some, but applicants from Germany and the UK are among the least successful. Since the site was opened to UK members, 295,000 people applied; only 35,000 were approved, The Daily Telegraph reported
The site, Beautifulpeople.com, was launched in Denmark several years ago. But it is now operating as one unified website across the globe.
Available information indicates the lonely hearts website has currently some 180,000 members. The prospective members are asked to submit their photographs, which are viewed and appreciated by other members, who decide through an online rating system whether the new ones are attractive enough to be admitted. Only about one in five applicants succeed in getting through the rating system.
Defending the process, the site's managing director Greg Hodge says there is nothing wrong in creating a club of beautiful people in the world. His argument is simple: People are fed up wasting time and money meeting unattractive people on the net.
The website, having presence in the US and the UK currently, promises successful applicants "glamorous parties, a jet-set global network" and "potential contracts from top modeling agencies"
Existing members of the website rate how attractive potential members are over a 48 hour provisional period, when applicants upload a photograph and a short personal profile.
They are rated by members of the opposite sex, who have four options to describe how attractive they think the hopeful is — 'Yes definitely', 'Hmmm yes, OK', 'Hmmm no, not really' and 'NO definitely NOT'.