10 January 2011. Dominican Republic won for the third time the title of International Queen of Coffee or Reina Internacional del Café, yesterday in Manizales.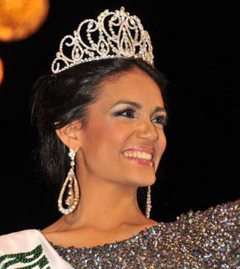 The International Queen of Coffee is one of the oldest and most traditional pageants on the planet. It is held annually in Manizales, Colombia, as part of the Manizales' Annual Fair to promote Colombian coffee.

The current Coffee Queen is the startling 20-year old brunette Sofinel Báez from Santo Domingo. First Princess went to Miss Colombia Jenny Marcela Arias while Miss Spain Ana Isabel Miranda and Miss Bolivia María Teresa Roca are the Second Princess and Third Princess respectively.
Standing 1.82 m tall, the new ambassor of Coffee currently works as a professional model.
She was crowned 'Reina nacional de belleza' – Miss Republica Dominicana Internacional – in 2010, and represented the Dominican Republic in the Miss International 2010 beauty pageant in Chengdu, China.
This is how she describes herself on her Facebook page:
'First I am a person, generous and kind, and loving. I am very creative and enthusiastic and understanding with others. I like adventure and I'm also outgoing, I have ambition, strength, courage, independence and total security in my abilities. It is where I want to and get full performance and energy to achieve my goal, not afraid of obstacles, I rather grow with them! I am generally good, idealistic and intelligent. I can become rather stubborn in my beliefs, but always I have absolute faith and sincerity … I do not like vulgar and everyday life. I hate selfish and ill-thinking people and I do not like routine and security. My defects can be as big as my virtues, I am not only an angel. I can be arrogant, confident and proud. I am open honest and I say what I think, but always in a friendly way! Sometimes I tend to rely heavily on people who do not deserve it… I work a lot on what I want. And I strive to hold on to everything I want and desire …When something interests me I focus all my 5 sense on that!'