Miss India Worldwide UK is to support Sightsavers' life-changing work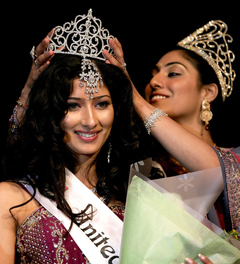 Crowning of Miss India Worldwide UK 2010, Niharica Raizada
15th March 2011: You can witness the crowning of Miss India Worldwide UK 2011, savour live music, dance and a three course meal, and do something for charity.

For Miss India Worldwide UK is to support Sightsavers' life-changing work. The money raised from the event will help end the suffering of the needlessly blind people.
In fact, Sightsavers Vision India Appeal aims at raising £1 million to help restore the sight of millions of blind people in India. It is one of two charities to benefit from the black tie event at The Grange in London on 26 March 2011.
Sightsavers will also be receiving a percentage of money raised by the charity raffle and auction. The prizes include cricket memorabilia. Miss India Worldwide UK 2011 will also donate 10 per cent of her earnings as Miss India to the Vision India Appeal.


Marina Jones, heading up the appeal at Sightsavers, said they were hugely grateful to have been chosen as an official beneficiary of this event. It costs as little as £15 for Sightsavers to give someone who is blind from cataracts their sight back. Every penny raised from this event will be spent directly on our eye care projects transforming the lives of the poorest people in India.