A delicacy made famous by the Senegalese diaspora around the world. Try it with fish too!
The Yassa, in its variants with red meat, fish or chicken, is one of the most delicious dishes from Senegal, known as second only to Thiebou Dienné.
We traditionally prepare Poulet Yassa as a treat for guests. We all gather around a big platter or rice and chicken and eat with our hands, scooping bits of chicken, onion and rice, against the side of the platter to form them a ball of delight.
Serves 4.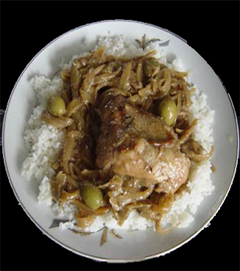 INGREDIENTS
1 chicken
6 cloves of garlic
4 bouillon cubes
pepper, finely ground
3 lemons
1 kg onions
2 tablespoons mustard
1/3 cup olive oil
1/2 cup green olives
salt
2 cups long-grain rice, preferably 'broken'
2 cups water

PREPARATION
Pre-heat the oven to 400°F (205°).
Cut the chicken into pieces and wash well with water and salt.
Prepare 'nokos' pounding 6 cloves garlic, 2 bouillon cubes and pepper and then put it inside and over the chicken pieces. Squeeze the juice of one lemon on top, put everything into a bowl and let stand for 1 hour.
In the meantime, chop onions into small pieces, adding the other two bouillon cubes, a dash of' pepper and two tablespoons of mustard and set aside to marinate.
Cook the chicken on the grill for 25 minutes or in oven for 1 hour.
In a deep iron-cast pot, heat the oil and gently cook the marinade of onions over low heat for 30 minutes or longer, until the onions are translucent and all the water evaporates.
As the meal cooks, prepare the rice.
Wash the rice, strain it and place in a pot with the same volume of water and a teaspoon of salt. Bring to a boil, cover with a lid, lower the heat to minimum and cook 12 minutes. Turn off the heat and leave the rice in the pot, covered, for a further 5 minutes. Fluff it up and set aside until needed.
When all is ready, place in a tray first the rice, then the chicken and finally the onion marinade. Garnish with olives and serve.

Enjoy!


Fatou Ndéye Seck