There's nothing more American than chocolate chip cookies.
Here's the classic 'American Woman's' recipe to help you play 'good housewife'.
There could hardly be anything easier to bake. And it's well worth the effort.
So go on and turn off that computer. Make your kids proud of you when their friends come over – you don't need to be American, a housewife or a woman at all!

MAKES: 50 cookies
PREPARATION: 10 minutes
BAKING: 10 minutes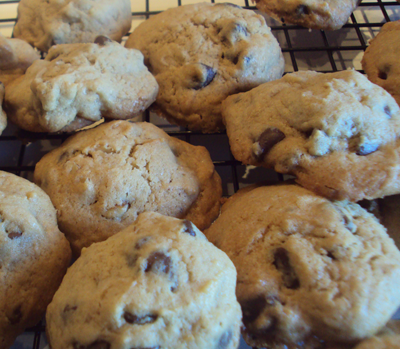 INGREDIENTS
1 1/8 cups flour
1/4 teaspoon baking soda
1/2 teaspoon salt
1/2 cup (120 gr) shortening
1/4 cup brown sugar
1/2 cup granulated sugar
1 egg, beaten
1 teaspoon vanilla
8 ounces (1 cup) semisweet chocolate (bar or pieces)
1/2 cup walnut pieces
PREPARATION
Sift flour, soda and salt together. Cream shortening and sugars together. Add egg and vanilla. Blend thoroughly. Add sifted ingredients. Cut chocolate in small pieces if using a bar. Fold in nuts and chocolate.
Drop from teaspoon onto greased baking sheet.
Bake in moderate oven (170°C) about 10 minutes.
Remove from sheet and place on a rack to cool.
Enjoy!