The most famous Ethiopian and Eritrean dish, Doro is served steaming on trays layered with soft and spongy injera
Serves 6
Preparation time: 15 minutes
Cooking time: 1 1/4 hour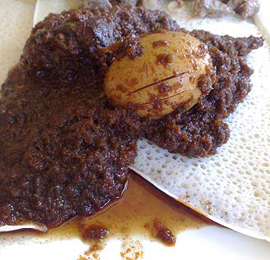 INGREDIENTS
2 medium red onion, minced
1/4cup nittir kebbeh (spiced butter) or 4 tablespoons unsalted butter
1/4teaspoon ground cardamon
1/4 teaspooon freshly ground black pepper
3 cloves
2 garlic cloves, finely minced
1 1/2 – inch piece of fresh ginger, peeled and minced
1 tablespoon Berbere or chilli powder
2 1/2cups chicken stock
4 to 5 pound chicken pieces, breast, legs and thighs
1/4red wine
Juice of 1 lime
3 hard boiled eggs, peeled
PREPARATION
Melt half of the spiced butter in a deep pot.
Fry the onions in the butter over low heat until golden, around 10 minutes.
Add remaining butter, cardamon, black pepper, cloves, garlic, ginger and cook until the onions attain the colour of the spices, about 6 minutes.
Add the chicken legs and thighs and sear them for a few minutes on both sides.Add 2 cups of the chicken stock, bring to a simmer and cook for 15 minutes.
Add the remaining 1/2cup chicken stock and the wine. Simmer for another 10 minutes. Add the chicken breasts and simmer 20 minutes longer.
Gently stir in the lime juice and eggs and simmer for 5 minutes. The sauce should be thin and soup-like.
Season with salt to taste.
Serve hot over layers of Injera , which will be soaked by the sauce.
The stew should be brought to the mouth with your fingers, after taking hold of it with pieces of torn injera: the skill of a refined diner is all in eating without soiling your fingers with the sauce.
Accompany with alicha and shiro.