Beat the chill with these sweeter than ever Punjabi recipes.
Lohri is celebrated with great pomp in North India every year on 12th-13th January. It is a festival to worship fire. Beat the chill with these sweeter than ever Indian recipes.
Kurmure Laddoo


Time: 1 hour
Makes: 12 pieces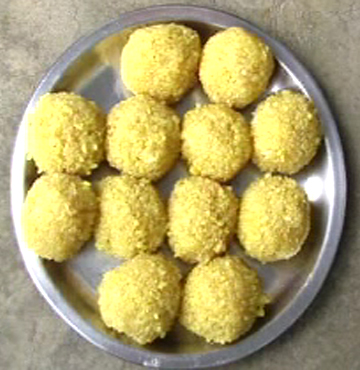 Ingredients:
½

cup roasted peanuts, shelled

250gr long-grained rice, cooked

250gr jaggery

250ml water

½

cup dry coconut flakes

6-7 cardamom seeds, ground


Cooking instructions:
Boil jaggery in water to form a thick syrup. To check for the right consistency, add few drops of the syrup into water – it should solidify immediately. Now add roasted peanuts, rice, cardamom powder and dry coconut flakes. Stir, gently.
Allow the mixture to cool for few minutes. Smear your palms with a little ghee to roll out balls.
Enjoy…..
Til Gajak

Time: 1 Hour
Makes: 12 Servings
Ingredients:
1 cup til (white sesame seeds)


¾ cup Jaggery)

2 tbsp ghee or oil

½ tsp Cardamom powder

½ cup water


Cooking instructions:
Heat a pan and roast sesame seeds on low heat. Keep stirring constantly to avoid them from spluttering. After roasting, cool and then pound them.
Prepare thick syrup of jaggery by boiling it with half cup water over low flame. Add the roasted and pound til to the syrup. Brush some oil on a rolling board. Spread the sesame-jaggery mixture over cling film. Press it to about 1cm thickness.
Cool the mixture sufficiently and cut into square pieces. Til gajak can be stored in an airtight container for up to 2 months.