Packed with seafood, this typical fiesta dish is a Filipino take on the popular Spanish recipe brought to the Isles during the long Spanish rule. Serves six
Preparation time: 10 minutes
Cooking time: 30 minutes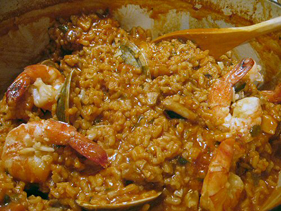 500 gr/2.5 cups long grain rice
3-4 tbsp peanut oil
12 chicken drumsticks and wings
2 onions, finely chopped
4 garlic cloves, minced
3 tbsp fresh ginger root, chopped or shredded
1 tsp paprika
2-3 tbsp tomato purée
2-3 bay leaves
5 cups chicken stock
1-2 tbsp patis (the pungent, national Filipino fish sauce)
400 gr/14 oz peas, preferably fresh
6 medium crab legs
12 prawns in their shells, cleaned and rinsed
12 medium clams, cleaned and rinsed
salt and peeper to taste
4 red chilies, seeded and quartered
kalamansi sauce (a bitter-lemon based sauce)
Rinse the rice in a sieve until the water comes out clear, then drain.
Heat the oil in a large wok or a shallow, heavy and preferably very wide pan with a lid. Add the chicken parts and fry for about 5 minutes, until browned on both sides. Remove the chicken and put aside.
Add the onion, garlic and ginger to the pan and fry until fragrant and beginning to colour. Add the paprika, tomato purée, bay leaves and drained rice and toss in the chicken. Pour in the stock and bring to a boil. Add the fish sauce and season with salts and lots of freshly ground pepper.Cover the pan and simmer gently for around 15 minutes, or until the rice and chicken are cooked.
Toss in the peas and add crab legs, the prawns and clams, placing them on top of the rice. Cover the pan again and cook for a further 10 minutes or until the prawns turn bright red and all the liquid has evaporated.
Serve warm with kalamansi sauce (you can substitute with the juice of half a lemon) and a bowl of chilies.