The tradition of pizza making from Napoli – with a short cut.
The method and tradition of pizza making in Napoli (Naples) is considered in Italy as the only way to make a genuine pizza. The European Union has recognised this attributing the TSG (Traditional Speciality Guaranteed) label to the Pizza Napoletana (Neapolitan pizza), which the Association of Neapolitan pizza-makers have detailed in terms of ingredients, preparation, leavening, shaping and baking.
Traditional pizza requires a minimum of 2+ 4 hours of leavening, use of certified ingredients, shaping exclusively by hand and baking in a wood oven.
There is however a short-cut recipe followed in most Italian households – where traditional ingredients from Napoli are hard to find and where pizza is often an easy meal to prepare when caught without bright ideas for dinner.
Serves 4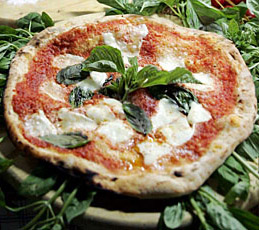 INGREDIENTS
4 cups flour (preferably Manitoba, but Kamut can do too)
3 teaspoons dry fast rising bakers yeast
2 teaspoons salt
1 pinch pepper, freshly ground
olive oil, high quality Italian
2 anchovies
100 gr. mozzarella cheese (please, no substitutes!), diced
200 gr. tomato sauce
Oregano

PREPARATION
Melt the yeast in half cup full of warm water and add a teaspoon of sugar. Set aside to proof.
On a marble counter arrange the flour in a mound, make a slight hollow in the centre and add the yeast mixture, the salt, pepper. Knead well for around 10 minutes, adding enough water to make a rubbery dough (around 1 cup and a half). It will be done when it becomes shiny and bounces back when pressed with a finger.
Place the ball of dough in an oiled bowl, cover the bowl with a damp cloth so to avoid the formation of a hard crust and put it aside in a warm place (I use a pre-heated oven or radiator).
When the dough doubles (about 1 hour) cut it in 4 equal size slices and form 4 small disks. If you have time, let them rise again until double. Otherwise go ahead and start shaping them by placing the disks on a well-floured surface and coating them on both sides with some flour. You'll need to work the disk from the centre to the sides with your fingers, flipping the disk around again and again until the centre is around 3 mm and the sides or 'frame' are around 1-2 cm.
Spread some olive oil on top of each pizza, just enough to moisten a bit, then add the drained anchovies, the diced mozzarella (buffalo mozzarella can be added sliced) and the tomato sauce (preferably chunky).
Season with salt, pepper, a few pinches of oregano and more oil.
Bake at 240 Cº for around 20 minutes, or until golden.
Serve piping hot with some basil leaves and extra olive oil on top.
Buon appetito!