Ciorba de Miel: try this tangy Romanian lamb soup
Romanian ciorbe are the most staple part of a Romanian home-style meal, as a matter fact a meal isn't a meal if it doesn't start with a ciorba!
Ciorba are soups with a characteristic tangy flavour due to the addition of a souring ingredient.
The traditional way, still used in the Moldavian region, is to a sour base called bors, made of fermented wheat bran. In other regions, more commonplace souring ingredients are used, such as lemon juice, vinegar or sauerkraut juice (from strained sauerkraut).
This ciorba is a typical on Easter Day.

SERVES: 6
PREPARATION: 25 minutes
COOKING time: 45 minutes

INGREDIENTS: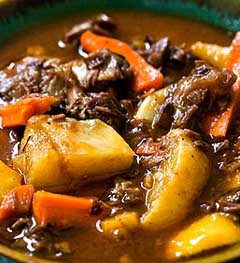 2 quarts water
2 lbs. lamb shoulder, cut into small pieces
1 lb. lamb shank (bone and meat)
2 carrots, peeled and sliced
1 large onion, peeled and quartered
4 celerey stalks, chopped
4 oz. fresh spinach, chopped
1 green pepper, chopped
2 tbsp. salt
2 tomatoes, sliced
2 tbsp. rice
2 cups sauerkraut juice (or ¾ cup white vinegar or juice of 2 lemons)
2 tsp. crushed hot chilli pepper
1 tbsp. freshly ground pepper
1 egg yolk
2 tbsp. sour cream
1 tbsp. fresh dill, chopped
1 tbsp. fresh fennel, chopped
PREPARATION:
Heat the water in a large kettle together with the meat pieces and the bone and bring to a boil. When it boils, skim the surface, lower the heat and add the vegetables, except tomatoes, and salt.
Simmer 15 minutes. Add tomatoes and cook for a further 5 minutes. Add rice, cook another 10-15 minutes or until meat and vegetables are tender.
Warm the sauerkraut juice and add to the soup together with the peppers.
(If you prefer to use white vinegar as a souring agent, use ¾ cup and add 1 cup water to the broth; if using lemons, the juice of 2 lemons will do, but add 1 cup water to the broth).
Cover and remove from heat.
Mix egg yolk and sour cream in a small bowl and pour into a tureen. Pour a ladle of soup over it and mix well. Remove the bone then add the rest of the soup to the tureen, stirring while you pour.
Sprinkle with the dill and fennel and serve.
This ciorba can be eaten as it is, for a full meal, or you can strain the soup and serve the meat and vegetables on the side.
Pofta buna!