Ukrainian Poppy Sweet Bread, a good Christmas morning cake!
Makivnyk is one of the oldest Ukranian cake recipes.
The main ingredient is red poppy seeds, to make the filling. But don't worry, we Ukranians are not a doped people: opium comes from poppy milk, while its seeds lose all the narcotic properties of the plant and let us delight in its taste.
This recipe is traditional also in other culinary cultures. It may change name as it crosses borders, but not ingredients.
The secret in any recipe based on poppy seeds is in how you cook them. Only seed that are finely ground, until they turn white in colour, give the best taste. In once upon a time Ukrainian kitchens it was common to find among traditional Ukrainian kitchenware a clay casserole with a rough inside lining called 'makitra', along with a pestle. 'makogin', that is still used today to grind seeds. In our days however preference is given to simpler and quicker methods, like electric coffee grinders.
Ukrainian women would tell you that in married life makogin had other uses as well, for instance to "educate" husbands, when they came home too late.
Serves: 6
Preparation: 40 minutes plus leavening (2 hours)
Baking: 55 minutes
Ingredients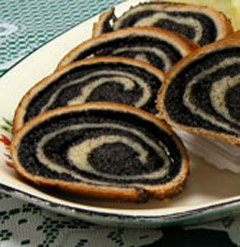 DOUGH
1kg flour
50 gr. bakers yeast
½ lt. milk, lukewarm
4 eggs yolks
100 gr. butter
200 gr. sugar
1 teaspoon vanilla
½ teaspoon salt
FILLING
500 gr. poppy seeds
250 gr. sugar
1 teaspoon vanilla
10 gr. yeast
4 egg whites
Preparation
Blend the yeast with lukewarm milk (38c˚) and 1 tablespoon of sugar. Set aside to proof for about 10 minutes. Add flour, egg yolks, sugar, butter, vanilla and salt. Knead well for 10 minutes, place the dough in a greased bowl and set aside in a warm spot to rise until double in bulk, around 1 and a half hour.
In the meantime, make the filling. Pour boiling water over the poppy seeds, drain them and grind them in an electric blender until they turn pale white. Add the sugar, vanilla, yeast and two egg whites and blend well.
Roll the dough out into a rectangle about quarter of an inch thick. Brush with another egg white. Spread the filling over the dough and, starting from one end, roll it up, leaving the seam under.
Place the roll on greased baking sheet and let rest in a warm place for half an hour.
Preheat the oven to 210c° degrees. Brush with the remaining egg white. Bake 10 minutes at 210c° degrees. Reduce to 180c° degrees and bake for another 45 minutes.
Mariana Soronevych