This quick and easy-to-make exotic dish from the Island of Paradise will provide colour and character to your dinner.
Serves 4
Preparation time: 15 minutes
Cooking time: 15 minutes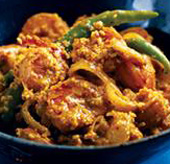 INGREDIENTS
2 tablespoons coconut or other vegetable oil
1 1/2 medium onions, chopped
4 cloves garlic
15g or half-inch fresh ginger, minced
1 sprig curry leaves
2 green chilies
2 teaspoons hot chili powder
1 teaspoon turmeric
4 teaspoons curry powder
1 large tomato, chopped
salt to taste
1 lb or 600 g medium prawns, peeled and deveined, with tails intact
1 1/2 cups (375 ml) coconut milk
1/2 medium onion, sliced into thin rings
PREPARATION
Heat the coconut oil in a low pan. Fry the onions, garlic, curry leaves, cinnamon and green chilies until the onions are golden brown.
Add the chili, the turmeric and the curry powders and cook until fragrant, about 2 minutes.
Add the chopped tomato and salt to taste. Cook stirring frequently, until the tomato is reduced to pulp. You might want to add a few tablespoons of water to avoid sticking to the bottom of the pan.
Rinse and add the prawns. Simmer until cooked through, about 3 minutes.
Add the coconut milk and bring to a simmer again. Remove from heat.
Add the onion rings as garnish and serve immediately.