Camarao na Moranga is a simple yet very refined – and delicious – Brasilian dish.
If your guests like prawns, choose a great big pumpkin, because this recipe from Bahia, Brazil, may turn out to not just be enough: it looks awesome and… well, tastes delicious!
SERVES: 6
PREPARATION: 15 minutes
COOKING: 45 minutes + 25 minutes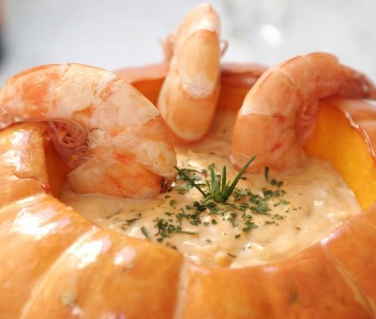 INGREDIENTS
– 1 kg of fresh medium prawns, washed and deveined
– 3 sprigs of chopped coriander
– Juice of 1 lemon
– Salt to taste
– 1 pumpkin (about 2.5 to 3 kg)
– 250 g cream cheese
– ½ cup of heavy cream, not too liquid
– 2 tablespoons olive oil
– 1 onion, chopped
– 2 cloves garlic, finely chopped
– 1 cup tomato sauce
– 1 tablespoon palm oil (optional)
– ½ fresh hot chili pepper, chopped
– 2 tablespoons flour
– 1/4 cup milk
– Chopped parsley for garnish
PREPARATION
Season the prawns with salt, coriander and lemon juice and let marinate for at least 30 minutes.
Cut off the top of the pumpkin ("lid") and set aside. Remove the seeds and filaments with a spoon. Cover the pumpkin with aluminum foil and place in a baking pan with the cavity facing down. Bake in a preheated oven at 180° degrees until the pumpkin is tender (about 45 minutes). Set aside.
Heat the oil In a heavy bottom skillet, and sauté the onion and garlic. Add the tomato sauce, seasoned prawns, salt and pepper. Cover and simmer for 5 minutes. Add the flour dissolved in milk and stir until thickened, remove from heat and stir in the cream cheese already mixed with the cream. Adjust the salt and pepper seasoning, if necessary. Fill the pumpkin with the cream sauce and bake in a preheated oven at 180° degrees for about 25 minutes.
Serve with plain, long-grained rice.