AfroNews one of the lucky nominees for the prestigious Award. Here's the full list of the nominees
21st September 2010: The AfroNews and its editor, Stephen Ogongo, are amongst those nominated for this year's Black Entertainment, Film, Fashion, Television and Arts (BEFFTA) Awards.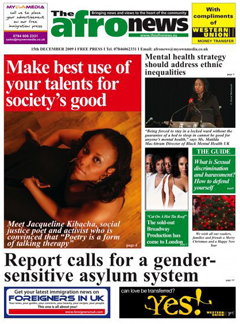 The prestigious BEFFTA Awards celebrate and reward the achievements of the known and unknown black personalities within entertainment, film, fashion, television and arts.
This year's nominees were recently announced at a special event in London's Mayfair Venue Babbles, in the presence of top black and ethnic personalities.
Some of the special guests included Stedman of Five Stars, Fame Academy star Audley Anderson, Junior Giscombe, radio personality Sherry Dixon and Lord Paul Johnson.
Last year's winners Supermodel Jasmia Robinson, actor David Ajala, Sola Oyebade of Mahogany Models were among the vibrant guests.
So many guests graced the occasion eager to find out who made it to final nomination list.
Asked what she thought about the 2010 nominees, Ms. Pauline Long, founder of BEFFTA Awards said: "The public nominated overwhelmingly for their favourite stars but it was down to the panel of BEFFTA members to decide who makes it to the final list. Once again this year we have definitely discovered some great talent that needed recognition and we hope the public will continue to support them."
Voting is expected to begin on 24th September.
This year's BEFFTA Awards night will take place at Central Hall Westminster, London in the Black History Month on 30th October. The prestigious red carpet event is expected to be star-studded with a comeback performance from Stedman of Five Star and other talented artists.
Meanwhile international celebrity hairstylist Verona White will treat the audience to an exclusive creative and well choreographed hair and dance show.
NOMINEES

Newspapers and Magazines
Best Community Newspaper: The Voice, The Afro News, Trumpet, African Voice, Flyer
Magazine of the year: Pride, Arise, Flair, Asiana, Asian Woman, Ninety-Nine, cocoa Basket, New African Woman, Black Beauty and Hair, UKZambians, FAB, Ninetynine
Journalist of the year: Lizo Mzimba, Stephen Ogongo, Janelle Oswald, Zainab Badawi, Julius Mbaluto, Ayo Johnson
Radio
Station of the year: Choice FM, Bang Radio, Unique FM, Playvybz, Voice of Africa, Colourful Radio, Magic
Best Radio Personality: Dotun Adebayo, Henry Bonsu, Margarita Tylor, Dr Psycho , Andrea P Vybz , Sherry Dixon, Angie Greaves, Kayode Akintemi, Ezra(Voice of Africa)
Entertainment Category
Music
Best Female Act: Estelle, Leona Lewis, Alexander Burke, Hayley Cassidy, Cynthia Erivo, Ayak, Cherry V
Best Male Act: Dizzie Rascal, Tinchy Stryder, Tinie Tempah, JJC, Sway, Bashy, Lil P, J Auburn, Mo Easy
Best Gospel Act: DTWG, Faith Child, Guvna B, Victizzle, Sonnie Badu, Jahaziel, Higher Ground Acappella, Priscilla Jones
Best International Act: Alicia Keys, Jay Z, Beyonce, Ne-yo, Trey Songs, Akon, Sade, K'naan, Emmanuel Jal, Jazmin Sullivan, Kofi Olomide, 2Face Idibia
Best Female UK based Afro/Caribbean Act: Sanyu, Shady Blue, Mimitah
Best Male UK based Afro/Caribbean Act: Lil P, Sway, Tres B, Smokey 9278, Emmanuel Jal, King David, Mo Easy, Myco Chris, Jusa Dementor, Komo blastic, Don Campbell
Dance
Best Dance Act: Flawless, Diversity, Boy Blue Entertainment, A3 dance group
Best Dance Choreographer: Ashley Banjo, Kenrick Sandy, Greta Mendez
Comedy
Best Comedian: Eddie Kadi, Jocelyn Jee Esien, Babatunde, Miss London, Kojo, Stephen K Amos, Slim, Shadrack and the mandem, Don't Jealous me
Best Comedy Entertainment personality: Angie Lemar, Lenny Henry, Felix Dexter, Richard Blackwood, Eddie Kadi, Melvin and Ricky, Glenda Jaxon
Events
Best Events Promoter: Black Grape, Funny Bizz, Harmony, Urban world, Play Entertainment, Easy Media Group, Ultimate Praise Inc, Streamline Empire, Glo Consultancy, Perryfield Promotions, Jungle Dream, Triforce Promotions, CM
Events
Best Events Presenters: Eddie Kadi, Justin Chinyere, Kojo, Miss London, Richard Blackwood, Jasmine Dotiwala, Dayo Olomu, Charles Emeka, Alafair Celestine
DJs
DJ of the year: Trevor Nelson, DJ Abass, Big Ride, Twin B, Candice McKenzie, Abrantee, Geoff Schumann, Shimpudu, Cherry Dropz, Professor Scratch, Manny Norte, Longers, Welly Tee
Photographers
Best Photographer: Richard Barr, Karl Lake, David A Gorgeous, Ben Black, Studio 77, Martin Kuria, Kenneth Asia, Suby and Sinem Photography

Fashion Category
Fashion Designers
Best Male Fashion Designer: Ozwald Boateng, Omar Mansoor, Yemi Osunkoya, Romero Bryan, Adebayo Jones, Gavin Douglas, Gavin Pierre Medford, Caz Longe
Best Female Fashion Designer: Baruch by Angela Knowles, Lanyero, Maame Baryeh, Gisella Couture, Zed Eye, Bunmi Koko, Samantha Cole, Georgie W Couture, Skye Chirape, Asakeoge Couture, GPUK Jewellery, Elisha Francis Jewellery
Stylists
Best Hair Stylist: Edee Beau, Yolanda Banda, Desmond Murray, Wayne Shorter-Campbell
Best Wardrobe Stylist: Christelle Kedi, Ola Shobowale, Lauraine Bailey, Marion Kihogo, Rachel Ofili, Fresh Strawberry, LA Bella, Robert Morrison, Gok Wan, Skye Chirape
Best Make-up Artist

Best Make-up Artist: Sheeba Raye, Princess Amayo, makeupmesexy.com, Edee Beau, Mandy Jhamat, Pat McGrath, Kevin Fortune, David Ayo-Gorgeous, Chivonne Williams, Marcella Cazley, Jessie Barker, Karen Salandy
Fashion Choreographers
Best Fashion Choreographer: Catwalk Professor, Reuben Joseph, Maxine Griffiths, Mackayla Forde
Models
Best male model: Prince Nkay, Ibukun Jegede, Julius Reuben, Linton Clarke, Adam Chung, Martins Igbinedion
Best female model: Naomi Campbell, Alek Wek, Rikaya Tagoe, Rachael Williams, Jasmia Robinson, Kyla Frye, Kadiatu Kamara
Best Modelling Agency: Mahogany models, IntStyles Models and artist management
Beauty Pageants
Best Beauty Pageant: Miss Jamaica UK, Miss Trinidad and Tobago UK, Miss West Africa International, Miss Southern Africa UK, Miss Flavour, Miss Zambia UK, ACS Kings and Queens
Best Beauty Queen: Miss West Africa (Shireen Benjamin), Miss Black Britain (Rikaya Tagoe), Miss East Africa UK (Randa Shebly), Fernando Kanyando (Miss Southern Africa UK), Maria Namiiro (Miss Uganda UK) Andella Chileshe Matthews (Miss Zambia UK) Victoria Mtonga (Queen of Zamba UK)
Best Former Beauty Queen: Miss East Africa UK (Vicky Ngari), Flavia Mbazimba (Miss Zambia UK), Alafair Celestine
Best Beauty Pageant Director: Angela Cox, June Daley, Justina Mutale, Nana Tamakloe, Ken Chung
Film Category
Best Film director: Noel Clarke, Gabriel Castillo, Julius Amedume, Steve McQueen, Gurinder Chadha, Sarjit Bains
Best Actor: Ray Fearon, Nonso Anozie, Chiwetel Ojiefor, Noel Clarke, Ameet Chana, Manish Patel, Jimmy Akingbola, Gabriel Castillo,
Best Actresses: Wunmi Mosaku, Sophie Okonedo, Naomi Harris
Best Film: Cash and Carry, It's a wonderful afterlife, 4.3.2.1, Adulthood, The Monologue
TV Category
Best Actress: Diane Parish, Freema Agyemam, Wunmi Mosaku, Nina Wadia, Alisha Bailey
Best Actor: Alm Ameen, Chuckie Venice, Idris Alba, Ashley Walters, Nonso Anozie, Don Gilet, Lennie James, Ray Fearon, Javone Prince, Chiwetel Ojiefor, Adewale Akinnuoye-Agbaje, Richard Ayoade, Nitin Ganatra, Ricky Whittle, Arinze Kene, Jimmy Akingbola, David Ajala
Best TV Station: BEN TV, OH TV, Hi TV, OBE, The African Channel, 601 TV
Best TV Show: Afro Buzz, Shoot The Messenger, The Sporah Show, BBS (BEN TV), The Magazine Show (BEN TV), Nightlife, Sam Dango show,
Best TV personality: Alesha Dixon, Konnie Huq, Makosi Musambasi, Lukwesa Burak, Angelica Bell
Best TV presenter: Reggie Yates, Konnie Huq, Gillian Joseph, Clive Myrie, Sporah Njau, James Sherwood, Miquita Oliver, Lukwesa Burak, Zainab Badawi, Rhoda Wilson, Charlene White
ART Category
Best Spoken Word Artist/Poets: Michaela The Poet, Phenzwaan, Suli Breaks, James Massiah, Kat Francois, Tshaka Campbell, Comfort(Art Without Apology)

Best Art Director: Greta Mendez, Alex Quest
BEFFTA Special Awards (This special category is not for public voting the winners will be announced on 30th October at Central Hall Westminster)
BEFFTA YOUNG ACHIEVER AWARD
BEFFTA INSPIRATION AWARD
BEFFTA FASHION ICON
BEFFTA ENTERTAINMENT ICON
BEFFTA FEMALE LIFETIME ACHIEVEMENT AWARD
BEFFTA MALE LIFETIME ACHIEVEMENT AWARD
For more information and tickets for the BEFFTA Awards night, please log on to http://www.beffta.com or send an email to: [email protected]