The effects of immigration and migrant workers on local communities examined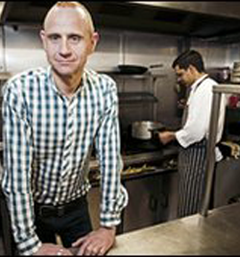 25 February 2010. Would you want to work in a potato factory, harvest vegetables in the chilly flatlands of The Fens, lug bricks around a building site or work all hours in the heat of a busy restaurant?
And would you want to do it in Wisbech?
That is the challenge laid down in Evan Davis's one-off BBC special, 'The Day The Immigrants Left'.
Filmed in Wisbech, Cambridgeshire, twelve unemployed locals are asked to take on jobs currently filled by migrant workers in the town.

Half turned up late or not at all. Those that did eventually arrive were shameful.
The documentary will be shown tonight, Wednesday 24 February, on BBC One, at 9 pm.
Presenter Evan Davis will also look at how schools and the NHS are coping with the town's estimated 9000 immigrants, many from Central and Eastern Europe.
Evan Davis told BBC Radio Cambridgeshire: "The programme started really with a hypothetical alternative world in which you ask 'what would society be like if we didn't have the immigrants here?'
"The conceit of it is to take immigrants out of Wisbech and to see how life continues there.
"We hear a lot of people saying that the immigrants have stolen our jobs, that there aren't any opportunities for Wisbech people.
"There are mixed results in the experiments we've done," he said.
"Some, you could see that the British workers were up to the job and could do it. And quite a few where you could say that the British workers didn't put their backs into it, didn't want to put their backs into it, or couldn't put their backs into it.
"What's undoubtedly the case is that a lot of these jobs are back-breaking jobs, and there is not a lot of demand by British workers to do these."
If you miss the program, catch it here: The Day The Immigrants Left .