Introducing a man that needs no introduction and known as 'the artist with the uncommon capacity to re-invent his art and challenge his audience,' we are proud to announce the nomination of Eugene Ankomah for Best Creative Artist, at the Black British Entertainment Awards 2017.
London born creative artist Eugene Ankomah, is a highly respected and valued member of the entertainment community, who continues to experiment and transform his work to push not only himself but also the limitation of the human mind.
In previous years, audiences have seen Eugene's continued ability to adapt his work in exciting and various ways, with each new piece showing that there is no limit to his talent. Known for such art as the popular 'Blacked Out' portraits and 'Cover Upp' paintings, a series of work that was produced over several years, Eugene changes styles and creates engaging work that grasps the attention of his audience, making them guess what will be next.
To continue with his ever-changing portfolio, Eugene has recently been focusing on new work that will change his audience's perception of the artworld and what we know of his art. Eugene stated that he wants to prove that art can be entertaining.
Being nominated for Best Creative Artist has been a positive experience for Eugene, who said "for me it means my creativity is helping to blur the lines between art and other genres, by the nature of how I put my stuff together."
Eugene will be marking this occasion with the launch of his new digital colour series named 'Brain Wave', a series that explores the brains ability to spontaneously create powerful images that erupts a sense of curiosity. As well as showcasing the debut of his live performance 'Blacklash Blues – A Passing Season'.
The live performance is a piece that highlights the issues of immigration, including the promise of a better life, along with the idea of Europe, being a false Utopia for many. Inspired by a contemporary track written in 1962 by Nina Simone, called 'Backlash Blues', Eugene's piece, will portray the lives of those who live in poorer countries, touching on the, Black Lives Matter theme and ultimately focusing on a victorious ending which will express overcoming the hardships of hate for the oppressed.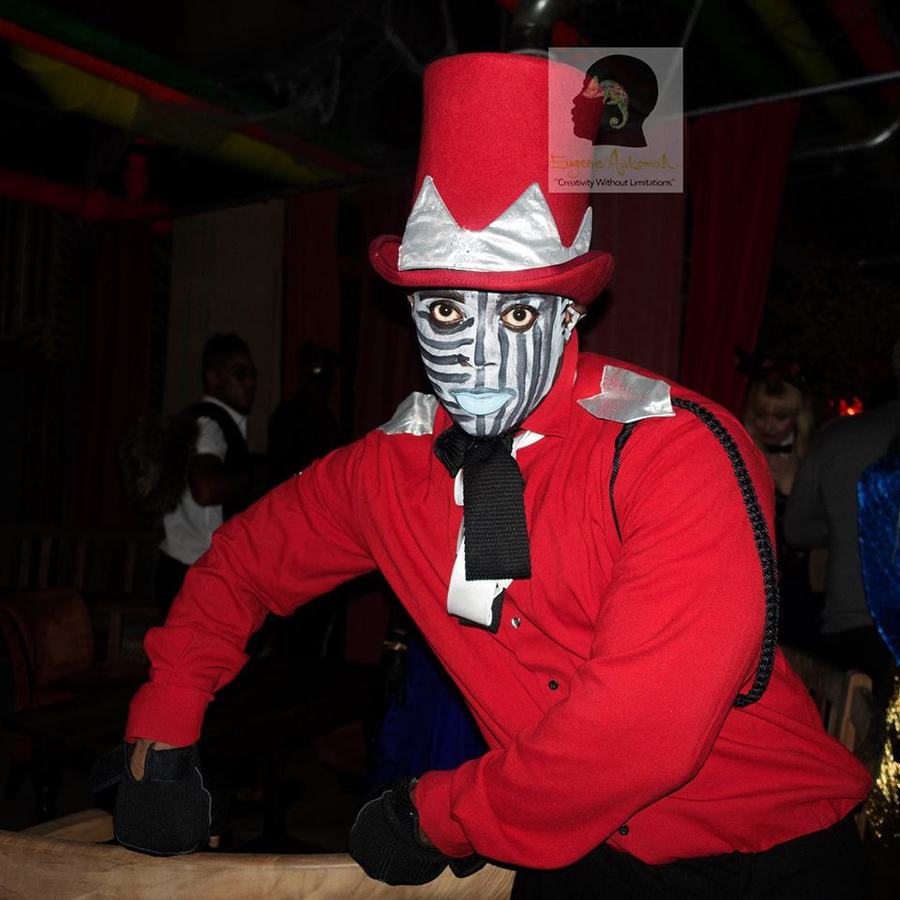 In a radical twist, Eugene will continue his performance off stage for the remainder of the evening, whilst dressed in his known and well-liked style of top hat and painted blazer.
The Black British Entertainment Awards, will take place at St. Johns, in Hyde Park, Mayfair on 28th October 2017, beginning at 7pm. Hosted by classical singer Rodney Earl Clark, who will be performing his debut album on the night, the BBEA will see Eugene reintroducing himself to a whole new audience.
A nomination, an exhibition with never seen before work and a life performance. This is the first time that Eugene has been nominated for such an award and he has our full support on the night, good luck Eugene, or as we say, the modern day Brecht of the art world.
For more information, or questions regarding the Black British Entertainment Awards, visit: http://blackbritishentertainment.com
For further information on Eugene's work, visit: www.eugeneankomah.com
By Samantha Moore