On 19th March 2018, I had the pleasure of attending FUTURE IMAGE – a digital art exhibition in London featuring Eugene Ankomah's 'Brainwave series'.
It was a medium size presentation which saw Eugene's masterpieces casually displayed on the walls. I appreciated how raw and unpretentious it was: with each piece merely being held up and attached to the walls using Bull Dog Clips. This was a refreshingly laid-back element (as opposed to the typical and predictable picture frames) meaning that observers could soak up the work and really bond with it up close and personal without feeling intimidated. You could literally touch it if you wanted to for there were no barriers.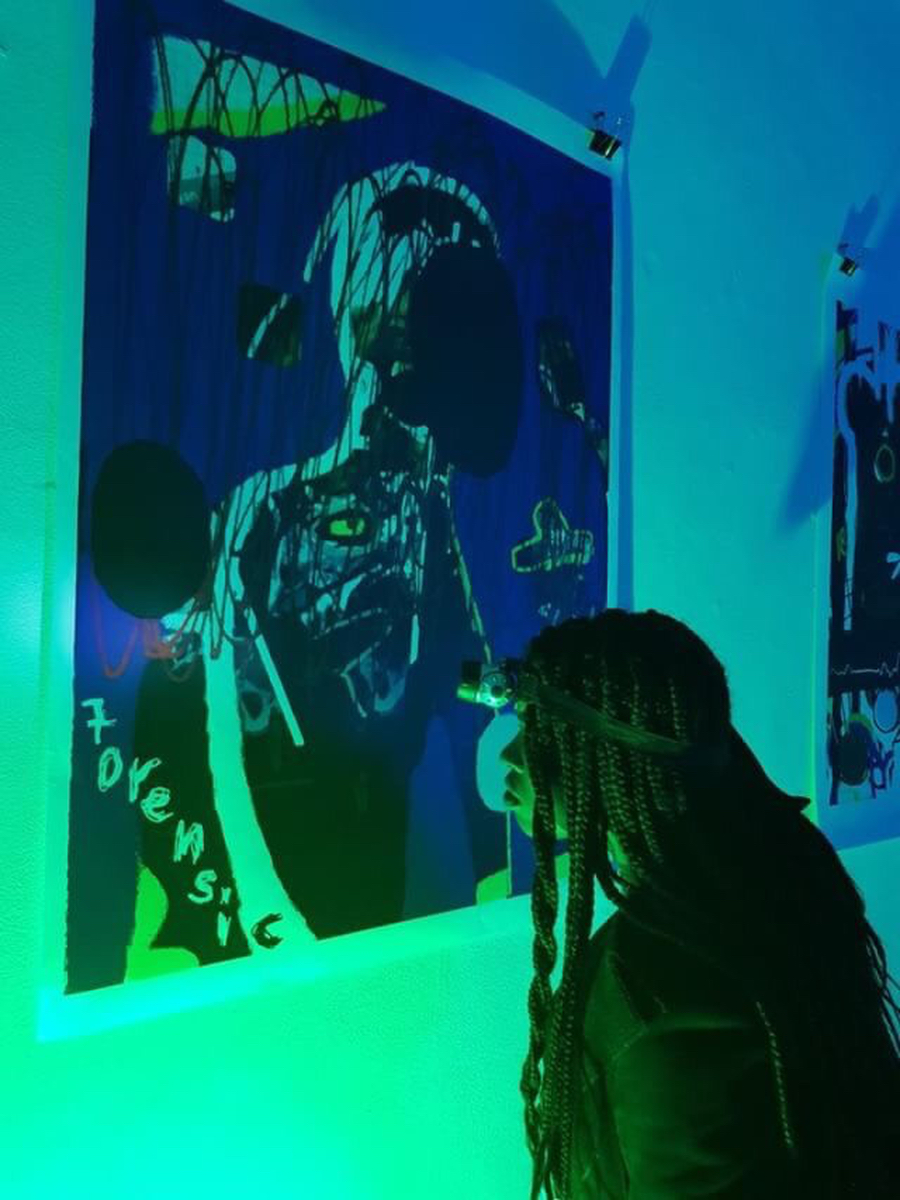 Coloured lights beamed from the floor and reflected onto selected pieces of Eugene's work, with each different colour cleverly evoking various perspectives and drawing the captivating infusion of energies embedded within his work. This created a profoundly cosmic atmosphere in the whole room. It was quite magical.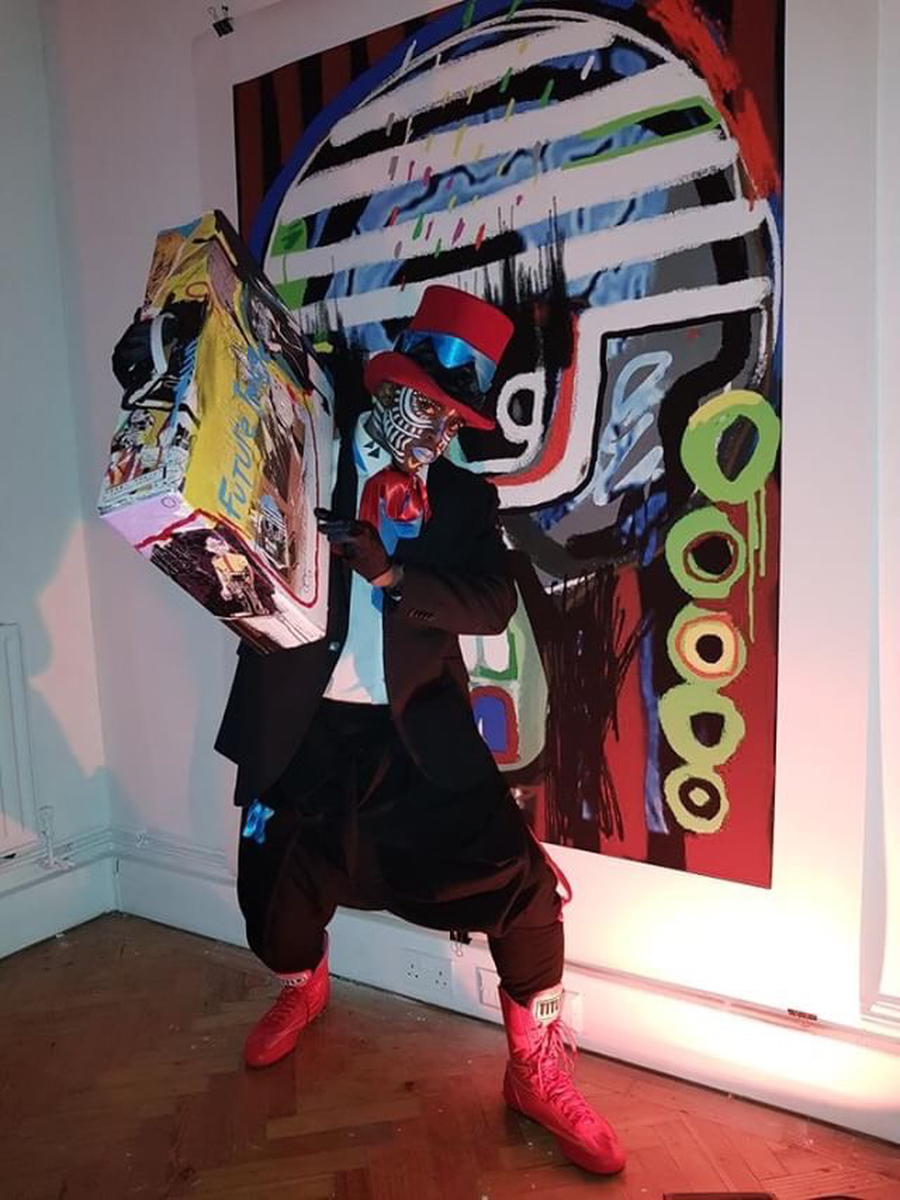 Each individual piece of art was incredibly striking, but my favourite had to be the largest piece on display entitled "In The Name Of The Living". I absolutely loved the use of colour.
This piece alone, one would say, is a great representative of what Eugene's "Brainwave Series" is about. It really encapsulates the whole energy of the project. I also felt that this image had a strong musical energy to it for some reason. It even made me think of the artist Kanye West – something I could definitely see him understanding and rocking on a t-shirt! Therefore, if anyone has any ties to Kanye, do give him a shout and tell him about Eugene please!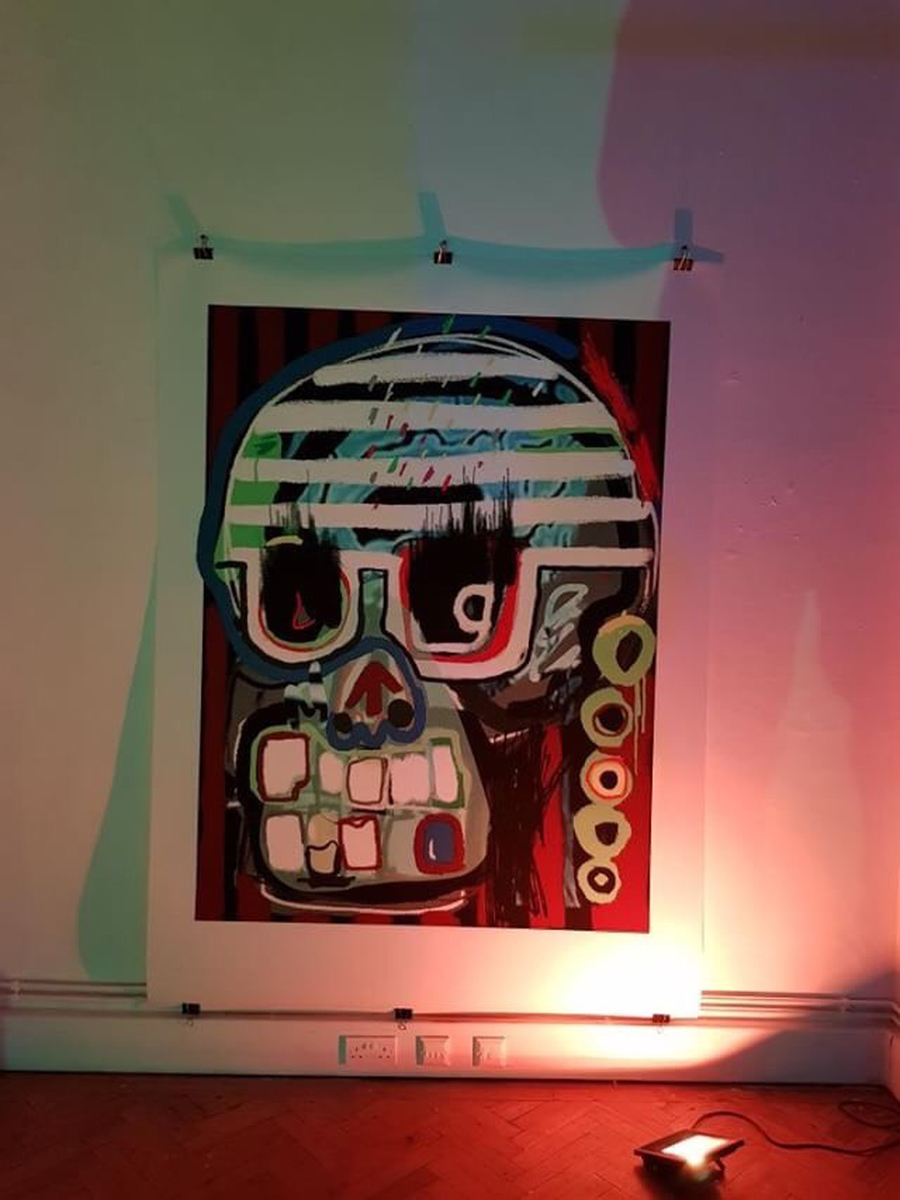 A feature that I found particularly interesting was that although the pieces were in fact digital, they really appeared to look like layered oil or acrylic paintings. With his work being inspired by old expressionistic paintings, Eugene injects his own marvellous twist on this and pushes boundaries by technically challenging old traditions of paintings. This is mind bogglingly clever and goes against the grain of what one would typically expect from "digital" art.
"Let The Music Play On" is the piece in which this feature stood out the most. It was layered to look like an oil or acrylic painting: clever and carefree, while still telling an intricate story.
I'm certain many would agree on the uncanny resemblance to the extremely expressive work of the great Basquiat – which only made it apparent to me that the two artists are in fact soul brothers! I've no doubt about it. Yep! I'm convinced that the spirit of Basquiat definitely had some unfinished business to do so he indeed must've set up a workshop within the soul of Eugene when he was creating this truly iconic series.
Eugene manages to convey a genius sense of balance consistently within his work: I get a sense of dark political messages while also having a contrasting childlike naivety – all at the same time. This type of balance is a powerful feature which will attract and draw people of all ages and walks of life to the art of Eugene.
The aesthetics of his work are so universal that not only can I see it being displayed up amongst art galleries worldwide but I can also picture Eugene's digital work printed on billboards, clothing, merchandise – you name it!
Although I was able to read and interpret some of the underlying messages within some of his work – they still however remained highly complex in their own way. This mirrored how mysterious, layered and enigmatic of an artist that Eugene is.
It left me wondering whether anyone really knows or will ever know who the real Eugene Ankomah is deep down and the level of depth within his mind.
One thing I do know for sure is that it is obvious that Eugene is destined for great things – world domination perhaps. His work is very current and it's imperative that it is recognised on a grander scale. I'm certainly sure that it's only a matter of time before this comes true.
I left the exhibition itching to see more of Eugene Ankomah's work and wanting to know more about the artist himself. I left as a true fan and supporter of this young man's work and I will definitely be stalking any future exhibitions that he may have for sure.
So, folks if you don't yet know about and haven't seen the work of Eugene Ankomah, understand that I've just given you a taste. Please do brace yourselves because I'm sure you soon will! Y'all better get to researching and stalking him yo!
By Latoya Casely-Hayford
RELATED ARTICLE: Meet Eugene Ankomah, an artist with remarkable ability to create exciting and intense artwork