"Our wish is to ensure that the stories of victims of honor killings are told, thus defying the intent of those who wanted to erase them" – MEMINI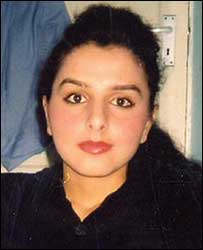 23 September 2011. Banaz Mahmod Babakir Agha's family immigrated to Britain from Kurdish Iraq in 1998. In line with tribal customs of the strictly-traditional family, Banaz was given in arranged marriage to a member of her own tribe at age 16. Few years later, after her marriage broke down due to violence and rape, Banaz returned back to her family home and while seeking divorce fell in love with Rahmat Sulemani, an Iranian Kurdish man of a different tribe.
Her actions became known throughout the tight-knit Kurdish community in South West London and she faced multiple threats from family and community members. In December of 2005, Banaz was taken to hospital after what she recorded as her father's attempt to kill her. Little action was taken by police despite her reporting the incident.
In January 2006, then 20 year old Banaz was raped and strangled to death with a shoelace in her family home by a gang of cousins and relatives on the order of her father and uncle. Banaz's body was stuffed into a suitcase and buried in a garden of an abandoned house in Handsworth, Birmingham. Her body was found in April 2006, three months after she disappeared, reported missing only by her boyfriend.
It was later discovered that her father, uncle and other members of their clan had plotted and planned to murder Banaz on grounds that she had brought "dishonor" and "shame" to them. In October 2010, Mohamad Hama of West Norwood was convicted of the murder of Banaz and given life sentence. Banaz's cousins Mohammed Saleh Ali and Omar Hussain, both 28, received minimum jail terms of 22 and 21 years respectively. Banaz's father Mahmod Mahmod and her uncle Ari Mahmod were subsequently jailed for life, with minimum terms of 23 and 20 years respectively, for arranging the killing.
Judge Brian Barker, the Common Serjeant of London, told them: "This was a barbaric and callous crime. To restore the so-called family honour, it was decided by her (Banaz's) father and uncle that she should die and her memory be erased."
He told Ali and Hussain: "You are hard and callous men who were quite prepared to assist others in killing in the so-called name of honour and who placed respect from the community above life, tolerance and understanding."
Women's and other organizations internationally lobbied the governments in both the UK and Iraqi Kurdistan to extradite the two remaining suspects in the murder following the guilty verdicts in June 2007. The extradition was finally ordered by the Iraqi authorities in spring 2010.
Banaz was a lively and beautiful young woman who saw a world beyond unjust rules, abuse, violence and oppression. In the midst of all her turmoil she also found love and kindness, but this was brutally taken away from the very people she called family.
May Banaz rest in peace…and may she have found that world of love and kindness that she sought and so rightly deserves…
For those who believe in love but who hath love snatched away, do still believe.
Love is that brighter day that seems so far, yet is on its way….it's on its way – MEMINI
Please join the remembrance of the victims of honour killings by browsing the online memorial: memini.co/memini and the Memini Facebook page.
Memini is an online site of remembrance for the known and unknown victims of honour killings. Deeyah has launches online memorial to remember the victims of honour-killing and bring awareness to an issue that kills over 500 women a year.
"Through MEMINI, we humbly hope to do our small part in acknowledging the existence of these women and honouring their memory".
RELATED ARTICLES:
'Muslim Madonna' Deeyah launches online memorial for honour-killing victims