Recalling Kazimierz Piechowski's spectacular escape from Auschwitz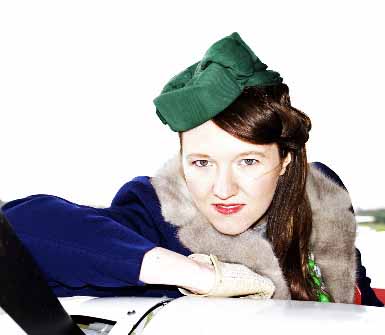 07 February 2011. Katy Carr is trying to round up £10 million to shoot a feature film about Kazimierz Piechowski and his spectacular escape from Auschwitz disguised as an SS soldier, stealing the car of the camp commandant.
Katy is an Englishwoman and a Polish woman together, more of a Pole as a matter of fact, as she takes every step possible to prove her commitment to the country where she was born and spent her first five years of his childhood. Poland always has the first place in her heart.
Why should she ever accomplish her movie project? First of all, she loves to make her dreams come true. Can you believe that this charming, subtle and very feminine girl, is a pilot, an officer in the RAF? Yes, RAF – the Royal Air Force. That was her dream since before becoming a teen-ager, the result of her grandmother's stories about the times of war, and the sprightly warrior pilots of the time.
Katy had always wanted to sing and compose, so she pursued a musical education. Aerospace and music, these two passions, she managed to combine well. Can it therefore be surprising that in her latest concert she was accompanied by a band called "The Aviators", or that the cover of her third album, "Coquette" is in a military style?
We meet at the West London Synagogue in Marylebone, which now houses the Open Art Cafe, a predominantly Jewish youth get-together. The occasion was a concert celebrating the 66° anniversary of the liberation of Auschwitz.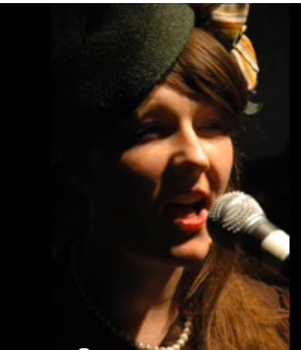 Katty was to sing three songs in the concert, one of which dedicated to Kazimierz Piechowski and his famous escapade.
That same day there was also the screening of her documentary film about Kazik at Rich Mix club (East London). The film enjoyed a great interest – enough to say that tickets have been booked in advance.
Katty sits at the piano, and, showing on the screen at the center of the cafe, there was a few-minute trailer for the film "Kazik Kommander's Car."
Besides directing the film, Katy also work the music, but this time it does not flow from the speakers but it is played live by the author.

These few shots combined with the beautiful ballad, sung in parallel with the projection, made a big impression – the audience was silent for a long time before the applause.
Kazimierz Piechowski's story for many years was known only to few, and outside of Poland, nobody had heard of it. Then where did Katy, previously not well versed in Polish history, find out about it?
"I went on vacation to Poland once and stopped at my aunt's in Bielsko-Biala. There I saw a television documentary "The Runaway" about Kazik. It stuck in my head, I kept thinking about it. It was incredible that someone managed to escape from Auschwitz, and in the camp commandant's car! I was fascinated. The story inspired me to write a song, and then to make a film on the subject".
Before the first amateur film by Kate on Kazik's story was made (it had it's premiere at the Imperial War Museum in London one year ago), the singer met Kazimierz Piechowski in Gdańsk. Since that time they became friends.
Now Katy has another challenge – idée fix, to make a real, big movie about Kazimierz, with full cast and effects. "The story about escape and that brave men is a ready script for the movie, written by life itself! I'm surprised that nobody took it so far to make a good movie," she said, besides the Polish documentary.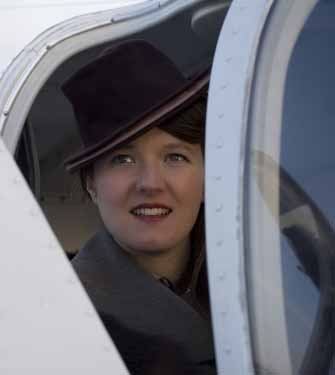 What is interesting in the whole story is that, during communism in Poland, Kazimierz Piechowski and the second fugitive, Eugeniusz Bendera, came out to authorities with an idea of making the film based on their story. In response, they heard from a higher governmental official, that they can make that movie on one main condition: there must be a place in screenplay for the then Prime Minister of the People's Republic of Poland Józef Cyrankiewicz, who was also a prisoner in Auschwitz during the war and an active member of resistance in that camp.
The suggestion was that Cyrankiewicz should be presented as the initiator of that escape and its big supporter. Piechowski and Bender gave up the idea of making the movie on those conditions and their story was "gone with the wind".
Katy calculated that the implementation would require 10 million pounds, but perhaps 10 million zloty would be sufficient. Unrealistic idea? I look at this girl and I think, of course she'll get them, after all she is capable of anything – she learned to pilot fighter planes and bombers, didn't she? Whatever she accomplished so far, she did because she really, really wanted it.
Janusz Młynarski