Initiated by London's immigration population, it is bringing people together again
29th August 2011: Initiated by London's immigration population from the Caribbean, particularly from Trinidad, London's colourful Notting Hill Carnival is bringing the people together again.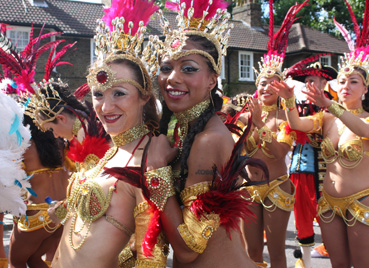 Much has been said about immigration, and its aftereffects. It leads to unemployment, puts pressure on the education system and health system, takes the houses away from the locals and leads to social tensions….
But, the festival once again has showed that the immigrants can and have weaved themselves in the social fabric and are an integral part of the society. It also shows that immigration is not a taboo anymore and how much the natives enjoy assimilating the foreign concepts and culture.

Held since 1966, the carnival was to begin with just a local affair for west London's nostalgic Caribbean community. But over the years the festival has evolved into Europe's biggest street party.
Back in the 1950s and 60s, the black immigrants were encountering unsympathetic racism. To make the matters worse, there were limited job opportunities.
Even the housing conditions were poor, to say the least. They then decided to come out with a festival in the style so identical with the Caribbean. The idea was to bring people together after the race riots of the 1950's.
It began as a small party. But now has up to two million revelers every August Bank Holiday weekend.
Carnival sets London on fire in a blaze of Caribbean spirit as extravagantly costumed dancers, calypso and soca musicians, giant sound systems and steel bands are joined by over a million revelers of all ages.
This year, the festival brought to an end the apprehensions of Europe's biggest street festival being ruined by a replicate of devastating riots earlier this month..
The extravaganza is expected to draws up to 1 million revelers out onto the west London streets to watch troupes of dancers in exotic costumes perform on floats as powerful sound systems pump out music.