Poles could pay their last respects thanks to the determination of Polish organizations and the support of Boris Johnson
19 April 2010. On Sunday, 18th April, in the heart of London over 10 thousand of Polish community members gathered to watch the transmission of the funeral of their President Lech Kaczynski and his wife Maria in the historic Wawel Castle in Krakow, Poland.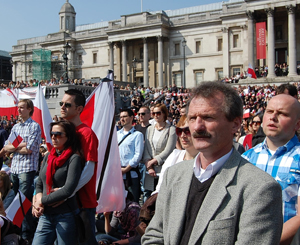 The presidential couple was killed a week before in the tragic aircraft accident over Smolensk in Russia, together with 94 highest rank Polish officials, civilians, and aircraft crew members. They were travelling for the memorial of the 70th anniversary of Katyn forest massacre. Polish community in London lost two other important figures: Polish President-in-Exile Ryszard Kaczorowski and Canon Bronislaw Gostomski, parish priest at St Andrew Bobola Polish Church in Shepherd's Bush, west London.
Poles could pay their last respects to their President in Trafalgar Square thanks to the determination of Polish organizations, who managed to quickly collect 30 thousand pounds and obtain Boris Johnson's support of the idea.
Among the officials who participated in the event were: David Miliband, Secretary of State; Richard Barnes, Deputy Mayor of London; Barbara Tuge-Erecinska, Polish Ambassador; and Anna Gebska, Head of Polish Scouting Association Abroad.
The decision to bury Lech Kaczynski in Krakow raised huge controversies among Polish people all over the world as the crypt of Wawel Castle is a place reserved for heroes, poets and kings.
by mr