Marcin Bilaszewski died while trying to defend his girlfriend.
14 May 2010. Marcin Bilaszewski, a 19-year old Polish national, is the eleventh victim of knife crime this year. He died while trying to defend his girlfriend.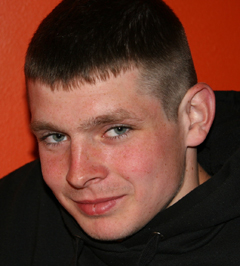 Police were alerted at approximately 11pm on Saturday 8 May to reports of a man stabbed in the vicinity of Finsbury Park underground station, Seven Sisters Road, N4.
Marcin, from the N15 area, suffered stab injuries. He was taken by ambulance to hospital, where he died at 00:25 hrs on Sunday 9 May.
A post-mortem gave cause of death as a single stab wound to the lower back.
An incident room has opened under Detective Inspector Andy Yeats from the Homicide and Serious Crime Command (HSCC).
As The Polish Observer revealed, Marcin's girlfriend Ania had been celebrating her 18th birthday with a group of friends that night. They were coming back home on bus 254 when an altercation took place between them and a black man. His aggressive behaviour was directed especially towards Ania.
When all were getting off the bus at Finsbury Park underground station, the man supposedly hit the girl on her face. Marcin took him out of the bus, trying to protect his girlfriend. When the group walked away, the man ran towards them, grabbed Ania, hit her in the neck and the back. Shorty after he stabbed Marcin. Before making off, he shouted: 'I'll kill you all!'
Today (Thursday 13 May) detectives investigating the murder of Marcin Bilaszewski have arrested a 33-year-old man in the street in Wood Green this morning.
He was taken to an east London police station where he remains in custody.
Anyone with information is asked to contact the incident room on 020 8345 1570; if you wish to remain anonymous please call Crimestoppers on 0800 555 111.
By Monika Rudzińska