Romanian folk music, courtesy of the Embassy in London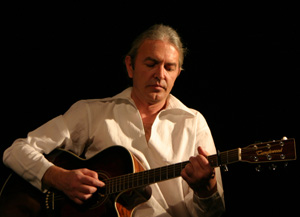 23 June 09. The acclaimed Romanian folk musician, Ducu Bertzi, has been invited by the Ambassador of Romania in London, Dr Ion Jinga, to give a live performance for the Romanian community living in the United Kingdom at 1 Belgrave Square, WX 8PH.
Ducu Bertzi, composer and performer of folk music, is well known in his country since his first recording in 1979 of the song "Cînd s-o-mpărţit norocu'" ("When luck was being distributed"). Since then, he performed on national and European music stages.
A poet himself, through the years he has put music to the poetry of not-so-well-known writers that he encountered and who impressed him, creating songs for their lyrics.
His best-known songs are "Ṣi de-ar fi…" ("If it would be…"), "Floare de colţ" ("Edelweiss"), "M-am îndrǎgostit numai de ea" ("I fell in love with her only"), "Suflet fǎrǎ chei" ("Keyless soul"), "Omul pǎdurii" ("Man of the woods").
The event is part of the Strategy of the Embassy of Romania for promoting Romanian culture in the United Kingdom.
Admission is free. To reserve a seat, write to: [email protected]
10 July, 2009, at 7.00 pm
1 Belgrave Square, London WX 8PH