The truth about the 1940 Katyn massacre by the Oscar-winning Polish director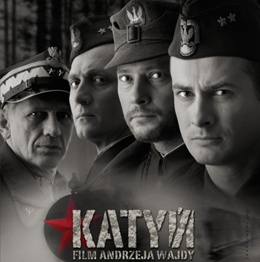 17 June 2009. Katyn (2007) is the first account of the massacre that took place in 1940. It tells the story of 22,000 Polish officers mudered during World War II by Soviet secret police, one of the most trafic events in Polish history.
It portrays the hard lives of women hoping in vain for return of their husbands, sons and brothers. Andrzej Wajda depicted a post-war Poland ruled by betrayal, terror and lies.
The director paid tribute to his father who died along with other over fourteen thousand men killed by the NKVD. His mother could never accept the death of her husband; she hoped he would come back one day.
However, there is more to find in the picture.
'A parallel theme to the Katyn crime is the Katyn lie and the official Soviet line that the Germans had committed the deed in 1941 after invading Soviet territory during the war,' says Wajda on his website.
The film distributor, TVP S.A. (Polish television broadcast), has sold the film to over 60 countries, such as, among others, USA, Russia, Germany, France, Italy, Sweden, Norway, Greece, Austria, Belgium, the Netherlands, and Ukraine. This is the best result in the history of Polish cinematography.
Cast: Artur Żmijewski, Maja Ostaszewska, Andrzej Chyra, Danuta Stenka, Jan Englert, Magdalena Cielecka, Agnieszka Glińska, Pawel Małaszyński, Maja Komorowska, Władysław Kowalski, Agnieszka Kawiorska, Antoni Pawlicki and Sergei Garmash.
Music: Krzysztof Penderecki.