13 May 2010: Grammy award-winning singer Angelique Kidjo is one of Africa's most powerful and charismatic stars, mixing driving dance rhythms, passionate political lyrics with her own extraordinary stage presence.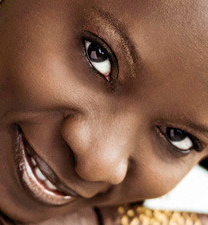 She is an exceptionally active member of the music scene, reaching huge numbers internationally with her recordings, tours and philanthropic work. With her joy and passion Angelique embodies the spirit of Africa; through her music, life and exuberant commitment to advocacy she exemplifies unity, peace and diversity.
On her latest album, "Oyo" (Proper), Kidjo revisits the music that was instrumental in her artistic formation in Benin. Her return to the Barbican – after recent triumphs with the Nina Simone tribute "Sing The Truth" and the Miriam Makeba celebration Mama Africa – is bound to win new converts to her extraordinary stage presence, described by Time Out as 'an electrifying cool – as contemporary, stylish and vibrant as it comes'.
Okou was born from the encounter between singer/songwriter Tatiana Heintz and guitarist/composer Gilbert Trefzger in a Parisian bar.
Tatiana, from the Ivory Coast, spent most of her nomadic childhood and teenage years discovering new horizons from the West African continent to Europe. To then settle for a while in London, where she worked with various musicians such as Keziah Jones, Mick Jagger, Nuspirit Helsinki, The Five Corners Quintet, Shaun Escauffery and more.
Gilbert is from Switzerland with Egyptian roots and has worked with artists such as Nitin Sawhney, Jamaican singer Roy Ellis, Lovebugs and many more.
Together, Tatiana and Gilbert are currently working on their first album – a folky, soulful breath of fresh air.
More events on: www.theafronews.eu

ANGELIQUE KIDJO + OKOU AT THE BARBICAN
Date: 16th May
Time: 7:30pm
Venue: Barbican,
Silk Street
London EC2Y 8DS
Tel: 020 7638 8891
Tickets
£27.50-10 + bkg