DSC South Asian Literature Festival to begin on 15 October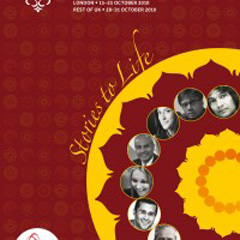 17th October 2010: Award-winning novelists, major thinkers and international commentators line-up, alongside well-known TV personalities, for first-ever festival devoted to South Asian writing.


That's right. The DSC South Asian Literature Festival is all set to commence in London from 15 October 2010 to 25 October 2010.
This eclectic mix of events will be held at cutting-edge London arts venues Kings Place (King's Cross), Rich Mix (Shoreditch), Free Word Centre (Clerkenwell) and prestigious establishments such as the British Library and British Museum, as well as bookshops across the capital.
With more than 30 events already confirmed, the DSC South Asian Literature Festival is expected to be Britain's first major event, celebrating the rich and varied cultures of the South Asian region, through the world of literature.
This October, as the New Delhi 2010 Commonwealth Games draws to a close, a stellar cast of authors, actors, poets and musicians – home-grown, international and from the sub-continent – and leading lights from the worlds of politics, academia and broadcasting, will gather in London to shed new light on the truly diverse landscape of South Asian writing.
DSC-SALF looks forward to hosting top names such as prize-winning novelists Romesh Gunesekera and Geoff Dyer; from two great political dynasties, Fatima Bhutto and Nayantara Sahgal; historian Michael Wood, acclaimed writer and musician Amit Chaudhuri, Pakistan's rising-star author Mohammed Hanif, acclaimed British-based writers Anjali Joseph and Roma Tearne, jazz musician Cleveland Watkiss and well-known broadcasters Mihir Bose, Hardeep Singh Kohli and George Alagiah.
Reflecting the diverse nature of South Asian culture, DSC-SALF is a multi-dimensional festival and will explore the politics, languages and literature of the region through music, spoken word, visual arts and literary performance.
Important topics synonymous with South Asia have been picked out and imaginatively programmed to create lively debate and discussion. These include: The role of writing in the Kashmir conflict with Victoria Schofield and Lord Meghnad Desai; and travelling through the sub-continent with acclaimed novelist and essayist Geoff Dyer, Hardeep Singh Kohli and George Alagiah.
Critically acclaimed, best-selling and multi-award winning novelist, Amit Chaudhuri, also launches his new CD 'Found Music', and explores the connections between his writing and the music

On the back of the New Delhi Commonwealth Games which finish only days before, a discussion about the entangled relationship between the UK and the subcontinent, epitomised through great sporting occasions such as cricket and the games, will feature Romesh Gunesekera, Indian journalist Boria Majumdar and Mihir Bose.
The powerful twin-dynasties of India and Pakistan are explored in a rare and fascinating on-stage encounter between Fatima Bhutto and Nayantara Sahgal, both prominent descendants of the Bhutto & Nehru families respectively, and moderated by Maya Jaggi.
The Festival will offer new creative writing workshops with Romesh Gunesekera and Moniza Alvi linked to the British Museum's A History of the World in 100 Objects, with an emphasis on treasures from the subcontinent.
The Festival will launch a Bollywood script-writing competition for teenagers in partnership with Spinebreakers and Live East magazine, work with existing writer's groups, develop educational outreach programmes, curate family activities and encourage Book clubs to debate South Asian titles on the Festival website, the forums of which will be launched during the festival build-up.
The Festival has partnered with the Reading Agency to build a parallel programme of multiple author-led events which will take place in libraries across Outer London. The festival will also travel to key cities across the UK and partner with local arts organisations after the inaugural series of London events.
The DSC South Asian Literature Festival is founded by publishing colleagues Jon Slack and Bhavit Mehta, who have set up a not-for-profit company called Amphora Arts to administer the Festival. It will be principally sponsored by DSC Limited, one of India's leading infrastructure companies, which has a global reputation and a presence across four continents. As creators of a new prize for South Asian writing, the DSC Prize for South Asian Literature, worth US$50,000 to the winner, the Festival is a natural alliance for the company in the areas of literature and the arts.

For more information, visitthe Fsitival's website at www.southasianlitfest.com .