30 September 2011. There are seminars, workshops and performances for all to enjoy at Black History Live in October. Highlights from the weekend include film screenings and lessons on how to play the Kora, a 21-string West African bridge harp from celebrated composer Tunde Jegede.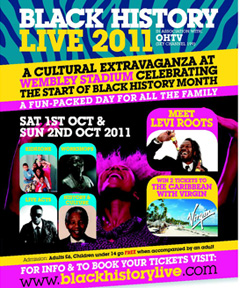 You can also see award-winning flautist Keith Waithe's collection of 300 flutes, and marvel as he showcases his distinctive blend of classical, jazz, African, Caribbean, Asian and Western musical influences.
Robert King of the Angola 3, a former Black Panther who spent 29 years in solitary confinement, and Jean-Robert Cadet, a former Haitian child slave, will conduct readings. Mr. Cadet will also be giving a talk, as will polar explorer Dwayne Fields.

Through performance and song, the Church Boyz will take you back to the era of the 1940s, and all the way through to the '60s when the first West Indian immigrants came over to Britain.

There will be traditional drumming from Adanta Dance, and singing from the London Community Gospel Choir, Faith Child, Canton Jones and Rachel Kerr.
In the Kidzone, younger visitors will have the chance to get creative and active. Here they will be entertained by street dance troupe Zoo Nation. They can take part in writing, arts and crafts and performance workshops, hear storytelling, dance to hip-hop and reggaeton through a child-friendly Zumba class and also Terry Jervis' Tropical Island.

Mia Morris OBE, Black History Live organiser and editor of www.black-history-month.co.uk said of the event: "Black History Live will give people a taster of the African and Caribbean culture, history and heritage. I think that Robert King of the Angola 3, Jean-Robert Cadet, the Kidzone and the writing workshop WAPPY will be very popular."

Black History Live 2011 is organised by Smaart Events, in association with The Voice, www.black-history-month.co.uk, PlayVybz and OHTV.

Event: Black History Live 2011
Dates: Saturday 1st October (10am – 6pm)
Sunday 2nd October (10am – 5pm)
Location: Wembley Stadium

Tickets: Adults £6, children under 14 go free
For a full programme of events, please visit www.blackhistorylive.com
The Afronews
www.theafronews.eu