Exhibition on till June 20, 2010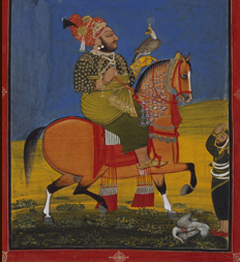 25 March 2010: Indian art is catching the attention of people in the UK.
As many as 60 works of the "The Indian Portrait 1560-1860" are currently on display at the National Portrait Gallery in London, curated by Rosemary Crill and Kapil Jariwala.
This exhibition runs until June 20. The Gallery has been putting on shows of historic works. But more often than not, the works are European rather than Indian.
Among the exhibits is 17th-century life-size portrait of Jahangir. It is believed to be the largest painting to come from the Mughal Empire.
For the exhibition, the curators decided against borrowing the art works from India. Crill said all works are significant; and they have tried to select not only good paintings, but also the ones telling something about individuals or society in India between 1560 and 1860.
Jahangir is shown in the portrait as seated on a European-style chair in court garments with a halo around his head and a globe in his right hand. The portrait was done in the 12th year of Jahangir's reign.
The exhibition has also on display portraits from the private collection of artist Sir Howard Hodgkin, and portraits of Amar Singh II of Mewar, and Maratha general Ram Rao Phalke.