Borders and ethno-fashion exhibitions' to be held in Scotland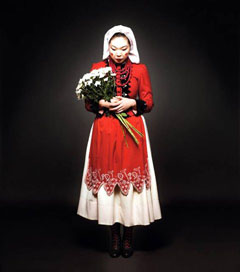 19 November 2010: The programme to promote Polish culture in the UK is all set to see `Borders and ethno-fashion exhibitions' in Scotland

The exhibitions, to be inaugurated on Monday, 22 November 2010, between 6 pm and 8 pm at the Dovecot Studios with visiting artist Akamine Hidetoshi, will continues till 6th December 2010.
The exhibitions are part of `POLSKA! YEAR' — a cultural programme coordinated by the Adam Mickiewicz Institute in Warsaw to promote Polish culture in the UK.
The exhibitions are supported by Dovecot Studios, the Consulate General of the Republic of Poland in Edinburgh and the Polish Cultural Institute in London.
The 'Borders' exhibition is by the two Polish artists who live in New York Piotr Bondarczyk and Piotr Sikora. The two, through their presentation of 14 portraits of New Yorkers dressed in traditional Polish costumes, allow you to submerge in an unusually presented world of textiles and regional patterns that break borders with their models.
If you look at them carefully, you will perhaps begin to see them as the participants of the game, succumbing to the rules of playing 'The Other', unveil through their subtle body language the mystery of human metamorphosis, transgressing their own identity, breaking borders.
The exhibition has been perceived as too extravagant by many, but can 'a Japanese woman, clad in an exquisite traditional Łowicz dress, swirling jauntily to the rhythm of Mazovian music, which she couldn't do when restrained by the straps of her traditional kimono' be too extravagant? Is Jevone, from Jamiaca wearing a traditional dress of highlanders from Podhale Region, or Peju, from Nigeria wearing a traditional dress from the Western Cracow Region, too extravagant?
There is a certain ambivalence that reveals itself in this almost physical transition: while wanting to remain what they are and who they are, a human being often desires to be someone else. In protecting their individuality, a person is still herself or himself, but at the same time, succumbing to the force of change or metamorphosis, they become slightly different, a little Polish…
The exhibition has been organized in collaboration with the State Ethnographic Museum in Warsaw.
The 'Borders' exhibition is being presented at the Dovecot Studios with the 'Ethno-Fashion' exhibition that unveils the combination of costumes designed by Teresa Seda and original folk costumes from different parts of Poland.
The exhibition is, in fact, a contemporary ethno-fashion show, designed and produced by Teresa Seda. 'A small black dress with highland roses or a big white one with a Łowicz belt and lots and lots of red beads – Polish folk is in fashion.'!, and anyway, 'Why should a Polish belt be any worse than those created by Jean Paul Gaultier, Sonia Rykiel or Paul Smith?'
The team composed of Teresa Seda, Elżbieta Czyżewska and Akamine Hidetoshi presents 20 photographs of their latest inspirations with Polish folk costumes and new applications of folk design. These images blend fashion, costume design, and sophisticated photography.