A glimpse of the diversity of the Romanian community in London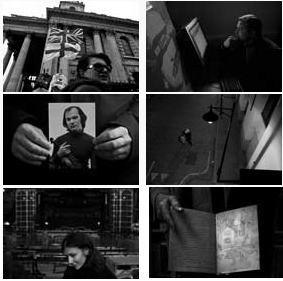 16 February 2011. Photographer Raul Stef's exhibition "From East to West: A Portrait of Romanian Diaspora," is a collection of photographs, which gives just a glimpse of the diversity of Romanian community in London.
Held at the Romanian Cultural Institute in London, the exhibition is dedicated to leading figures of Romanian historical exile, to personalities from finance and charity sectors, as well as to several celebrated names in the arts.
Inspired by the large Romanian community living in the UK, Raul Stef photographed over 20 Romanian born figures setting the economic and cultural agenda in London, capturing their journey from native Romania to the UK, as they walked on the road to success. Flashbacks of their past experiences and vivid portraits from today take the viewers to an exciting discovery of well-known people with surprising life stories.
The current exhibition features: Serban Cantacuzino (President of Pro Patrimonio – The National Trust of Romania), George Iacobescu (CEO Canary Wharf), Anne-Marie Martin (CEO British-Romanian Chamber of Commerce), Nicolae Ratiu (Chairman of The Ratiu Foundation), Eleonor Sebastian (architect, worked at World Bank in the United Nations, founder of Time Out in Bucharest), Princess Marina Sturdza (activist in the renaissance of Romania), Marius Turda (writer, Reader in 20th Century Central and Eastern European Biomedicine, Oxford Brookes University) as well as Anda Anastasescu (pianist, President of the Constantin Silvestri International Foundation), Remus Azoitei (violinist, professor at the Royal Academy of Music in London), Alexander Balanescu (violinist and composer, the Balanescu Quartet), Alina Cojocaru (principal dancer at The Royal Ballet of London), Mariana Gordan (visual artist) and Anamaria Marinca (starred in the Palme d'Or winner 4 Months, 3 Weeks and 2 Days).
At the opening, the Ambassador of Romania in the United Kingdom, Dr Ion Jinga, congratulated the artist for appraising the achievements of the Romanian Diaspora living in the United Kingdom.
"There are many Romanians living in the United Kingdom who achieved excellence in their chosen fields. Among them are famous architects, artists, specialists in different domains of expertise as health care professionals, researchers, and a wave of young, enthusiastic graduates working in the City of London.
"My message for all is the next: each and every Romanian living abroad is perceived as an Ambassador of his country.
"This exhibition speaks about a community whose excellence is the key of success, about their professional leadership and artistic inspiration".
Raul Stef is based in Cluj, Romania. He is currently studying MA in Documentary Photography at the University of the Arts London. He took part in various group exhibitions and worked as photojournalist for Romanian and UK newspapers.
When: 16 – 28 February 2011.
Open: Monday – Friday, 10am – 5pm.
Where: Romanian Cultural Institute London, 1 Belgrave Square SW1X 8PH
Free admission.