Interactive events for the whole family!
Generation to Generation: British Caribbean History and Culture Weekend
Victoria&Albert Museum, Sackler Centre
Saturday 28 November, 10.30-17.30
Sunday 29 November, 12.00-17.30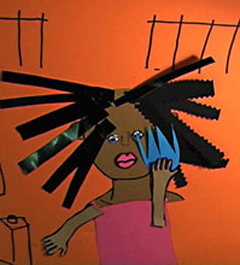 A weekend of free, creative and interactive activities, tours, and films for all the family is on at the Victoria&Albert Museum in London.
The Generation to Generation programme includes an African Caribbean object tour, practical workshops, a chance to watch up to nine films charting the contributions of black communities in 21st century Britain and a chance to purchase or order films screened over the weekend.
Special guest for the weekend will be British filmmaker and writer Horace Ové, CBE, who hails from the island of Trinidad, and continues to make pivotal contributions to the British film industry. He has unquestionably paved the way for many, of all nationalities, to learn and follow in his footsteps.
Families and youth will especially appreciate the interactive events. Bring a packed lunch so not to miss all the fun.
On Saturday you will be able to: Design and construct a miniature front room; decorate a mask and dress-up in costumes for a photo shoot against a Carnival backdrop; Create a newspaper front page using digital software inspired by Britain's first black newspaper, The West Indian Gazette; Join the African Caribbean objects tour and discover prints and photographs, paintings and craft, textiles and costumes.
On Sunday you can: Dress up in an Afro wig for a group photo shoot featuring a 60s backdrop; Design and decorate a paper garment inspired by objects made in the 60s; Join the African Caribbean objects tour and discover paintings and craft, textiles and costumes, stained glass and metal.
Due to demand some activities will be on a first come first served basis.
On arrival pick up a Day Sheet for an outline of activities and times related to this event.
For more details on the weekend programme click here .
This event will be filmed for future broadcast