Coalition of families and friends march on Saturday 30 October Demonstration: Saturday 30 October 2010, 12:00 pm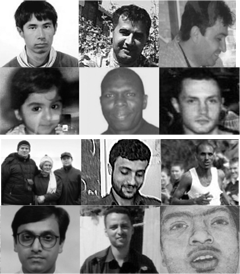 On Saturday 30 October, families from across the UK will meet in London for the 12th remembrance procession for those that have died in police, prison and psychiatric custody.
The United Families and Friends Campaign (UFFC) is a coalition of the families and friends of those that have died in custody, and includes the families of Leon Patterson, Alton Manning, Joy Gardner, Brian Douglas, Roger Sylvester, Ricky Bishop, Mikey Powell, Jason McPherson, Rocky Bennett, Christopher Alder, Habib Ullah and Sean Rigg – all of whom died, sometimes in violent circumstances, at the hands of police officers, prison guards and the staff at psychiatric institutions. The Campaign has for over ten years fought for justice and to hold the state to account for the suspicious deaths of their loved ones while in the care of the state. It is critical of the 'failure to prosecute those responsible for custody deaths' which 'sends the message that the State can act with impunity'.
The Campaign asks that independent investigations be conducted in to deaths in police and prison custody; that prosecutions should follow inquest verdicts of 'unlawful killing' and that legal aid and full disclosure of information should be made to families.
Comments from family members:
• Stephanie Lightfoot Bennet, whose brother died in Stockport police station in 1992: 'I have been coming to this march for the past twelve years. I am fighting to get a public inquiry into how my twin brother died. I have got too many questions and not enough answers. My family have a right to know.'
• Janet Alder, whose brother died in the custody of Hull police officers in April 1998: 'I urge all of you to support us in our unrelenting struggle for truth and justice.'
• Sieta Lambrias, sister of Mikey Powell, who died inthe custody Birmingham police in September 2003: 'We ask people to come and support us. We cannot keep silent and condone these killings.'
• Susan Alexander, mother of Azelle Rodney who was shot dead by police in April 2005: 'I have been supporting the UFFC ever since I heard about it in 2005. It is crucial that people support this rally and show a united front because anyone at any time can lose a loved one, but they DO NOT ever imagine that it would be at the hands of the state. It is important that the public know what really happens in these cases.'
• Samantha and Marcia, the sisters of Sean Rigg, who died in the custody of Brixton police officers in July 2008 said: 'We are joining this UFFC march because we want this government to know that our family will not stop fighting until we uncover the real truth of how our brother came to his death and just who is responsible.'
You can join the demonstration on Saturday 30 October 2010 at midday which assembles at Trafalgar Square to march to Downing Street.
By Harmit Athwal
INSTITUTE OF RACE RELATIONS