Queen Mary, 22 March: Launch of a new book on migrant workers.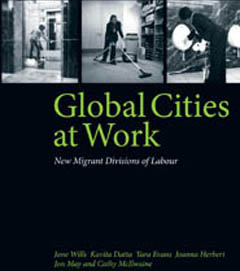 19 March 2009. 'Global Cities at Work', a new book exposing London's reliance on migrants and exploring the implications of this for employment, politics and policy, is to be launched Monday 22nd at Queen Mary, University of London.
The book is about the people who always get taken for granted: the people who clean our offices and trains, care for our elders and change the sheets on the bed.
The four authors – Kavita Datta, Jon May, Yara Evans and Cathy McIlwaine – , all working or teachers at Queen Mary, draw on testimony collected from more than 800 foreign-born workers employed in low-paid jobs in London during the early years of the new century.
The 256-page book breaks new ground in linking London's new migrant division of labour to the twin processes of subcontracting and increased international migration that have been central to contemporary processes of globalisation.
Global Cities at Work raises the level of debate about migrant labour, encouraging policy-makers, journalists and social scientists to look behind the headlines.
It calls us to take a politically-informed geographical view of our urban labour markets and to prioritise the issue of working poverty and its implications for both unemployment and community cohesion.
The authors will present the book, together with speakers Marzena Chichon (London Citizens' Living Wage Campaign); Mark Abani (The Central Association of Nigerians in the UK); Don Flynn (Migrants' Rights Network), and others.
DATE: Monday 22 March 2010, 7-9pm including a reception
LOCATION: The Octagon, Queen Mary, University of London, Mile End Road, London