Held since 1966, carnival was initially a local affair for homesick Caribbean community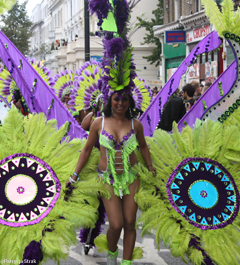 26th August 2010: Notting Hill Carnival is back. Held since 1966, the carnival was initially a local affair for west London's homesick Caribbean community. But it has evolved into Europe's biggest street party.
Carnival sets London on fire in a blaze of Caribbean spirit as extravagantly costumed dancers, calypso and soca musicians, giant soundsystems and steelbands are joined by over a million revellers of all ages.
Sunday is officially Children's Day, but there are loads of kids on both days enjoying the bright colours of the floats and the dancers' feathered costumes.
Adults can shake their battys at dozens of stages: our favourites are Channel 1's booming dub, and the jazz-reggae at Gaz's Rockin' Blues, but there are tunes for all tastes, from house to hip-hop. It's a huge area, and can get very crowded, so be prepared for an exhausting day out, but for anyone who loves a party, Carnival remains the absolute highlight of the London summer.
The venue is Notting Hill; 29th & 30th August 2010; you can arrive around 12 midday and things start to cool off at about 7pm. The nearest station is Notting Hill or Ladbroke Grove Tube