Ukrainian Society's Oxford Conference calls international experts 
to discuss democratic governance in Ukraine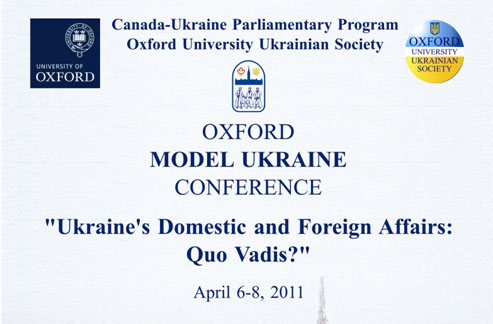 30 March 2011. From 6 to 8 April 2011, experts from across Europe, Canada, the US will gather in Oxford, UK to discuss leading issues in domestic and foreign affairs of Ukraine.
The third Oxford Model Ukraine Conference, sponsored and organised by the alumni of the Canada-Ukraine Parliamentary Program (CUPP), and the Oxford University Ukrainian Society, in cooperation with the Russian and Eurasian Studies Centre, will take place at St. Antony's College and New College at the University of Oxford on 6,7, and 8 April 2011.
It is the third in a cycle of four Model Ukraine Conferences, which bring together CUPP alumni and experts in government, economics, law, diplomacy, education, and health to share knowledge, experience, and ideas in order to improve democratic governance in Ukraine.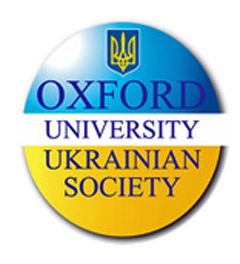 The aim of the conference is to distil recommendations discussed and present a new model of governance to the Government of Ukraine.
Oxford University Ukrainian Society President Anzhela Yevgenyeva, St. Hilda's College, announced that: "The conference will draw talented students, prominent scholars, political leaders, and professionals from various fields, and may be the largest gathering of Ukraine's best and brightest outside of Ukraine".
"This will be one of the more significant conferences organised outside of Ukraine," said Toronto-based lawyer, Ihor Bardyn, Committee Chair of the Oxford Model Ukraine Conference.
80 individuals from Ukraine, Austria, Canada, Germany, Italy, the Netherlands, Poland, Portugal, the UK, and the USA have registered for the conference.
Prominent participants include: Kim Campbell, former Prime Minister of Canada; Borys Tarasyuk, former Minister of Foreign Affairs of Ukraine, and current head of the parliamentary committee on European integration; Leigh Turner, the UK Ambassador to Ukraine; Volodymyr Khandogiy, Ukraine's Ambassador to the UK; Giorgi Vashadze, Deputy-Minister of Justice of Georgia; and Ambassador Jose Manuel Pinto Teixeira, Head of the Delegation of the European Union to Ukraine.
Among the scholars of Ukraine and the region the conference will host James Sherr of the Royal Institute of International Affairs, Andreas Umland of the National University of Kyiv-Mohyla Academy, Kataryna Wolczuk of the University of Birmingham, Andrew Wilson, University College London, Oxana Pachlovska of the University of Rome, and Oxford's leading scholars including Paul Chaisty, Kalypso Nicolaidis, Alex Pravda and Sarah Whitmore.

During the conference, organisers together with the Russian and Eurasian Studies Centre will launch a fund-raising campaign for a Senior Research Fellow in Ukrainian Studies at St. Antony's College, University of Oxford.
Duties of the Fellow will include: research and publication of new work on Ukraine, teaching of Master's students, supervision of postgraduate theses on topics relevant to Ukraine, and organisation of workshops, lectures and seminars, to promote new scholarship on Ukraine.
In the first instance, this campaign is targeted at the creation of a five-year post. However, it will be part of a long-term initiative to endow a permanent post and create a larger, more diverse fund, which will provide opportunities for scholarship and visiting scholars from the region.

Click here for full details of the conference programme .
For further information on the conference please contact: Mr. Anton Krasun, Secretary for External Relations, Oxford University Ukrainian Society: [email protected] or Mr. Ihor Bardyn, Committee Chair of the Oxford Model Ukraine Conference: [email protected]
For further information on Fellowship in Ukrainian Studies at Oxford, please contact: Ranjit Majumdar, [email protected]