ORGANISING FOR MIGRANT WORKERS RIGHTS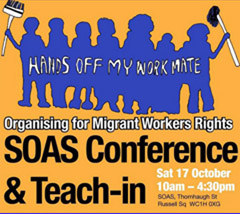 Saturday 17th October 2009, School of Oriental and African Studies, London
10am to 5.30pm
Closed legal briefing session for Migrant Workers, 2pm
In June this year, cleaners at SOAS who had joined UNISON and organised to win the London Living Wage suffered a brutal immigration raid, organised by the cleaning contractor ISS.
The raid highlighted both the central role of migrant workers in the global economy and the vulnerability of the undocumented workers who have been working to build union organisation.
The Hands of my Workmate conference & teach-in has been called by the three SOAS campus unions to address the issues surrounding migrant labour, attacks on their citizenship and right to organise and the ways in which all workers are impacted by the extension of the border into our workplace.
A closed session of legal briefing for Migrants workers will be held at 2.30 pm, with top immigration lawyers from Immigration Advisory Service and other immigration firms will assist participants in obtaining quality legal advice.
Workshops will confront the issues of: racism, unionism, feminisation of migrant labour, recession, education, the global economy.
To book your free place, email [email protected]
The latest leaflet for the Hands of my Workmate Conference & Teach In is available here .