'Turbanology: Sikhs Unwrapped' Exhibition in Birmingham to raise awareness of turban's history, significance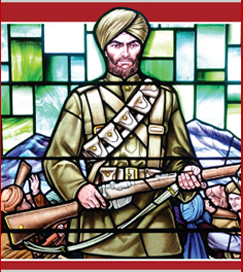 9th June 2011: Sikh history and tradition wrapped up in turbans is all set to be unfolded.
An exhibition in Birmingham is all set to raise awareness of the turban's history and significance for the Sikh community.
`Turbanology: Sikhs Unwrapped' opens at the Nishkam Civic Association, Birmingham, on 10 June. It will travel to Derby, Slough and Leeds. Schools will be invited to participate in the exhibition to enable young people to learn and understand the history and relevance of the turban.
The Sikh religion requires them to support uncut hair and the turban helps them encase their long hair. But soon after 9/11, the Sikhs came under attack as some people assumed turbans show they are Muslim radicals.
Turbanology will see specially commissioned films and talks; and provide information and perspective on the turban's spiritual importance. It will also provide the visitors with hands-on experience on how a to tie a turban.
Exhibition director Jay Singh Sohal believes the exhibition will go a long way in negating the negative preconceptions.
A survey for the exhibition suggests that 33 per cent of turban-wearing Sikhs have received verbal abuse and another 14 per cent have faced racial discrimination because of their turban.
Historically been associated with bravery, loyalty and courage, the Sikhs and their turbans have been in Britain since the 1860s.
The community has fought for Britain during two world wars.

Singh-Sohal says the aim of the exhibition is to tackle these preconceptions in a fresh and fun way by focusing on the aesthetic, the symbolism of the turban and the things that British Sikhs have done to earn their place as respected members of the society.