Admire and enjoy South African flora
27th October 2010: A small corner of South Africa brought to the heart of London by Royal Botanic Gardens, Kew, and the British Museum, is on till 10th October 2010. Hurry up, folks!
The South Africa Landscape opened on 29th April 2010 on the Museum's west.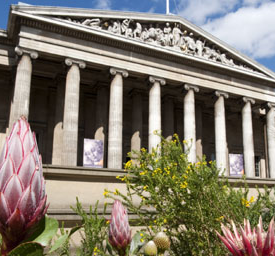 Opening the `South Africa Landscape' at the British Museum H.E Dr Zola Skweyiya, South African High Commissioner to the United Kingdom and Northern Ireland said: "This wonderful South African Landscape project, for its duration, will ensure that the beauty and incredible diversity of the unmistakeable South African flora can be admired and enjoyed by the thousands of visitors who flock to the British Museum during the spring and summer months"
The South Africa Landscape, supported by Barclays, highlights the rich diversity of plant life in South Africa – a country that is home to three internationally renowned biodiversity hotspots.
The year 2010 has been declared International Year of Biodiversity by the United Nations and the Landscape is the third in a five-year partnership programme following on from the successful India Landscape, created in 2009, and China Landscape, created in 2008.
The South Africa Landscape has a radically different appearance from the two previous habitats; taking in the Western Cape's famous fynbos, succulent Karoo vegetation and the coastal flora of the Eastern Cape.
It features plants that are hardy from mid April to October, with a significant proportion in bloom throughout the duration of the Landscape.
Plants featured include African lily (Agapanthus), cape heath (Erica), daisies such as the bright blue Kingfisher daisy (Felicia) and the Cape daisy (Osteopermum), the South African geranium (Pelargonium), the red hot poker (Kniphofia) with its bright orange rocket shaped flowers and the shocking pink fig marigold (Carpobrotus).
The layout is a walk-through landscape with a desert feel of tumbled rocks, scree and sand; interspersed with strangely shaped quiver trees (Aloe dichotoma), swathes of spectacular plant colour and an understorey of desert annual and perennial plants.
For the British Museum the Landscape is part of a wider programme of engagement with Africa whose material culture is so important in the context of the Museum's collections.