Indian-origin British actor Sanjeev Bhaskar in lead role

03 July 2010: The BBC has come out with a new prescription for the success of its dramas. It has captured the presence of Indian doctors on the health front in a new drama 'The Indian Doctor'.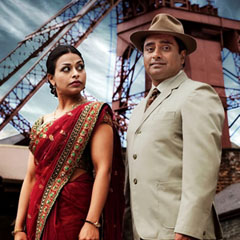 Noted Indian-origin British actor Sanjeev Bhaskar plays the lead character of Dr Prem Patel. Bhaskar's presence has already been felt in popular television appearances such as 'Goodness Gracious Me' and 'The Kumars at No. 42'.
Bhaskar says he was looking forward to the role in the drama set in the 1960s, the time when one of the largest number of Indian doctors migrated to Britain.
The five-part drama series will be shown in the daytime and is being broadcast to mark the 50th anniversary of the start of the sixties.
It revolves around Dr Prem Patel, one of the thousands of doctors who, encouraged by former minister of health, Enoch Powell, moved from the Indian subcontinent to the UK to begin new lives.
Dr Prem Patel is shown to have migrated from India to a small Welsh village.
BBC controller Liam Keelan says the story of the doctors who came to the UK from the Indian subcontinent is one that hasn't been widely told, so it's really exciting to be able to commission The Indian Doctor, this new original drama, for BBC1".
The drama is being produced by Rondo Media.
For discussions on life in the UK or advice on legal issues, log onto the Foreigners in UK forum !