On cards is public screening of opening ceremony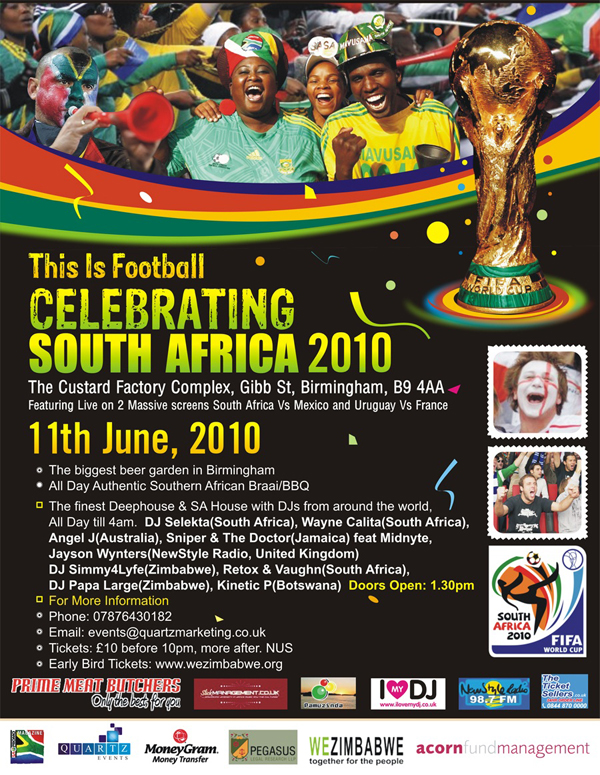 9th June 2010: Independent organisations and charities with links to Southern Africa are organising World Cup parties in UK cities. In Birmingham, authentic music, a South African BBQ (braai) as well as public screening of the opening ceremony and the first two matches will be happening at the city's Custard Factory. The party is a celebration of all things African and proceeds will go to the WeZimbabwe charity.
WeZimbabwe founder and activist Hilton Mendelsohn says "For most of us, sport and music have always been important. Every move we made on the court or the pitch had its soundtrack. South Africa 2010 will be unique in that respect. This World cup will have a distinctively African soundtrack and we want to celebrate that."

"As much as we are WeZimbabwe, we are WeAfrica, we are behind all six African teams in the tournament and we hope that everyone not just Africans gets behind this event as well"
Mike Tashaya, from Birmingham-based Quartz Marketing, who is organising the event, says: "We wanted to create an Afro-centric platform for our African and British friends to come and experience the World Cup with us. For those who haven't booked a flight, we are looking to create a home from home. For one day, The Custard factory will be transformed into a Mecca to World Cup football – Come & celebrate with us."
So on Friday, June 11, 2010, from 1:30pm be at The Custard Factory, Gibb Street, Birmingham.
The emotions in the UK's South African community are running high, with the kick-off for the World Cup only a few days away. Many people won't be flying out to support their team, but are nonetheless at the forefront of World Cup mania. It's not just an occasion to celebrate football, but also the cultural and musical heritage of the Rainbow Nation.
Among those staying in England is Tulani Gumede, who is originally from Soweto in Johannesburg, but has lived in Manchester since 2002. He works as a dentist five days a week and on weekends plays Afro deep house music as DJ Selekta.
"Music and football are closely linked in South Africa: you need musical vibes to uplift the spirits and there are beats, lyrics and chantings that are very relevant to football," says the 36-year-old.
"South Africa will showcase not only football but also our diverse cultures and everything that has made us a unique country."
He adds: "It's pretty bad that I'll miss such a lifetime opportunity and it feels like I'm missing out on history in the making."
An important part of South African fan culture is the vuvuzela, the trumpet-of-choice for football fans that has come to symbolise the sport in southern Africa. Its foghorn sound will be heard around pubs, clubs and big public screens showing the matches this summer.